Huseby supports Sacramento's McGeorge School of Law class with mock deposition



Court reporter Nichole Thut works the mock deposition at McGeorge School of Law.
Huseby was happy to assist the McGeorge School of Law by providing a court reporter to cover a mock deposition and by providing transcripts. In addition, we provided the sealed original transcript for the mock trial that followed.
We enjoy supporting future legal professionals and are always happy to assist with mock depositions like these!
The McGeorge School of Law in Sacramento, California, is part of the University of the Pacific. The court reporter who worked with the school was Nichole Thut.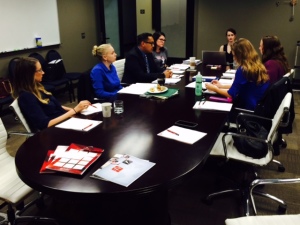 We were helping with the Trial Skills in Family Law class taught by by Neil M. E. Forester Esq. Mr. Forester is a California Board of Legal Specialization certified family law specialist. He recently founded his own firm, Forester Purcell, which will open its doors on March 2.
The mock depositions were held at Goyette & Associates in Gold River, California.
To help prepare for the mock trial scheduled for the end of the course, Mr. Forester wanted his students to experience the process of going from deposition to trial. It was a great way for the students to learn about the dos and don'ts of depositions.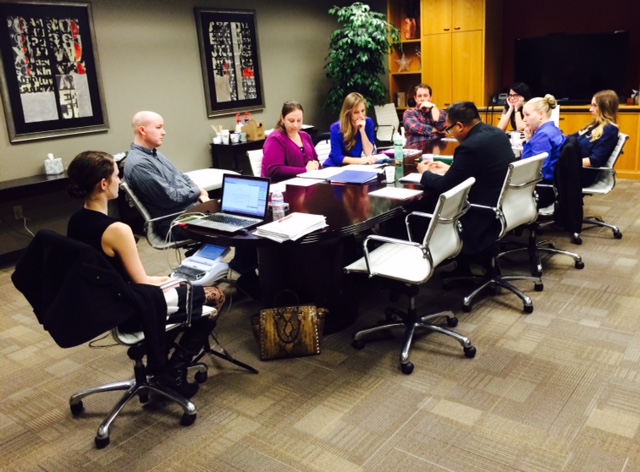 Nichole Thut works with students on the second deposition of the day.
The mock deposition was very similar to an actual deposition and provided an opportunity for students to help understand the court reporter's role, among other things. This experience allowed the students to see what is needed from the reporter as well as what the reporter is in need of from the attorneys to help make sure the deposition runs as smoothly as possible. Mock depositions are also a great way to help law firms prep their witnesses.
Nichole Thut, CSR, RPR, is an active member of the Deposition Reporters Association and is the 2015 Court Reporter Board liaison and a part of the student committee. She is also an active member of the National Court Reporters Association, and holds the organization's registered professional reporter license.
Huseby in Sacramento
We enjoy mock depositions and we do the real thing as well in California and elsewhere. DeMichelle-Huseby is headquartered in Fairfield, California, with offices in Napa, Dixon, Sacramento and San Rafael.
Legal professionals looking to schedule litigation services or order transcripts in these and other California locations can contact DeMichelle-Zanone or Stewart at 888-709-0888 or click here to schedule.
Here are all of Huseby's California locations.
West regional center
South Flower Street
Los Angeles, CA 90071
(213) 234-5540
Dixon Professional Building
255 N. Lincoln Street, Suite H
Dixon, CA 95620
700 Webster Street
Fairfield, CA 94533
7815 North Palm Ave., suite 120
Fresno, CA., 93711

DeMichelle-Huseby
1034 Walnut Street
Napa, CA 94558
3550 Watt Avenue
Sacramento, CA 95821
1919 Grand Ave.,
Suite 1F
San Diego, CA 92109
505 Montgomery Street
10th & 11th floors
San Francisco, CA 94111
(415) 432-6051
4340 Redwood Highway, Suite F-150
San Rafael, CA 94903
Click here for all of Huseby's locations nationwide.