In midst of budget compromise, good news for North Carolina court reporters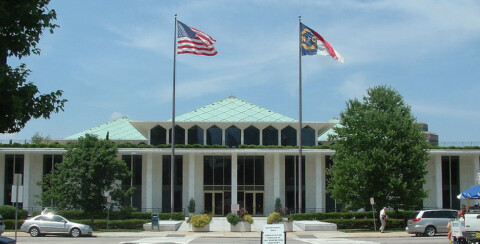 The North Carolina State Legislative Building was opened in 1963. Photo by Jayron32 via Wikimedia Commons.
In North Carolina's quickly passed, two and a half-months-late budget, there's some good news for court reporters.
North Carolina's governor plans to sign the compromise state budget that had gotten lots of media attention for how it impacts education funding, transportation funding, historic tax credits and pay for prison guards.
One issue that hasn't gotten much attention is funding for court reporters. Last year, court reporter pay had been cut from $2.50 per page to $1.25. This budget when signed will increase that amount to $2 per page.
That caused some reporters to leave North Carolina for other states and forced Forsyth County to shut down half of its district courtrooms, according to one report. Some prosecutors considered more plea deals as a result.
State senator Stan Bingham, a Republican from Davidson and Montgomery counties, said, "As we have on many things, we'll try something and realize it was a mistake or we need to compromise or make changes," said Bingham. "And that's in effect what's happening." (WFMY)
Huseby in North Carolina

Huseby Inc., provides its clients with court reporting services across the United States — including North Carolina, at these locations:
1 West Pack Square #1400
Asheville, NC 28801
(704) 253-7033
200 West Second Street, 19th Floor
Winston-Salem, NC 27101
(800) 333-2082
1230 West Morehead Street #408
Charlotte, NC 28208
(800) 333-2082
7800 Airport Center Drive #401
Greensboro, NC 27409
(336) 605-9669
3737 Glenwood Avenue
#100 Raleigh, NC 27612
(919) 831-8877