​Legal news roundup: The Pope and Wisconsin, Philadelphia, Massachusetts lawyers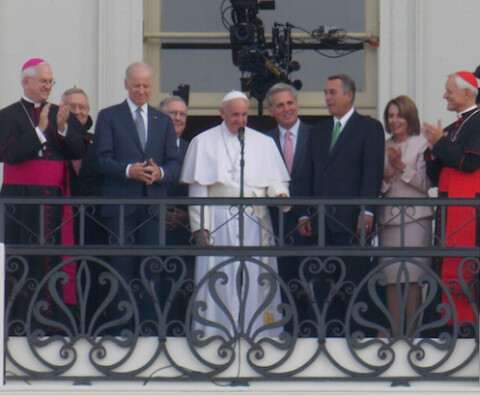 Pope Francis, Congressional leaders and Catholic leaders stand outside the Capitol after his address before a joint meeting of Congress earlier this week. (Photo via Wikimedia Commons by Farragutful.)
Whatever the big story of the day, there are smaller stories involving the insights, involvement and input of the legal community. The story of Pope Francis' visit to the United States is given perspective in these stories of attorneys.

Up close and personal for Wisconsin lawyer
For example, a Wisconsin attorney who was "close enough to see the pontiff's facial expressions" during his speech in the U.S. House, says the Pope spoke to Catholics and non-Catholics alike by focusing on help for the poor and a message of not leaving behind anyone who needs help.
The Pope also didn't sound angry, the attorney said, contrasting him to Benjamin Netanyahu's speech several months ago. The story says the attorney was a guest of a Wisconsin legislator, but didn't say what kind of connection scored him a seat for the historic speech. (LaCross Tribune)
Philadelphia working on a contract
The Pope's visit to Philadelphia will include a speech using the same lectern Abraham Lincoln stood behind when delivering the Gettysburg address. It's another highly anticipated moment during the Pope's visit to the U.S. following his visit to Washington D.C. and New York City.
One thing has Philadelphia city leaders worried, though: Late in the game there was no contract establishing who will pay for what during his visit. That's highly unusual at this late stage, said a former city attorney, who said the city's experience in drawing up compacts for services for large events tells him this particular event is not going as it should.
He said "It should have been signed by now." He said it's important because contracts should be available so the public can see what agreements the city is making and what it's getting in return for its money. (Pittsburgh Post-Gazette)
Watch out for papal scams
Massachusetts' attorney general says folks making plans to see the Pope should take precaution against counterfeit tickets and transportation scams.
She gives detailed tips for how to avoid them, with the main thrust being this: Beware of buying tickets on the secondary market. There are free tickets available to papal events, available through a lottery system. If you see tickets available on Ebay or Craigslist, it's hard to tell if those tickets are real or not. And they're certainly not free. So buyer beware. (MassLive)