Meet Ameen Hofioni: Huseby's new West Coast VP based in Sacramento, California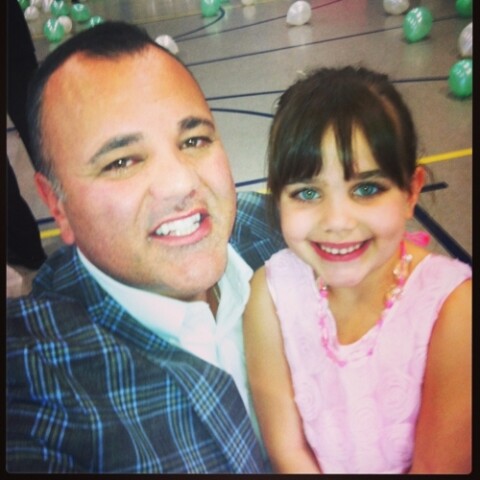 Ameen Hofioni and his daughter Zoe.
According to Ameen Hofioni, Sacramento, California is "growing like a weed" in terms of the arts, sports business, entertainment and leisure.
"Our new arena will be done next year and will be the home of our beloved Sacramento Kings, and the city is in line for a new (Major League Soccer) team as well," he said.
Ameen should know. He's part of the growth as Huseby's new West Coast vice president of sales and marketing, based in Sacramento. Along with all of those other things in Sacramento, Huseby is growing, too.
"Our new building is right next to the new arena," Ameen said recently. "We are at the epicenter of Sacramento's revitalization."
If you're a lawyer looking for court reporting or other litigation services in Sacramento, Huseby's new office address is 555 Capitol Mall, Suite 550, Sacramento, CA, 95814. As always, you can reach Huseby at (800) 333-2082.
Read below to learn more about Ameen, including his recommendations for where to eat in Sacramento.
Where are you from? I was born in Oakland, California and raised in a small town in Wyoming. I have lived in Sacramento for over 20 years. I'm a cowboy at heart.
How long have you been with Huseby? 18 months.
What was your first job ever? I was a dishwasher in my mother's restaurant. I also bailed hay and shoveled tons of cow manure for fertilizer in that time frame.
What's your favorite thing about working for Huseby? Scott Huseby simply "gets it" and the company's slow-yet-aggressive growth vision coupled with superior service is refreshing.
What's your favorite movie? "Gladiator." Why? The path of a man who was on top, knocked down and he then literally fought his way back to righteousness and justice.
What music are you listening to? I'm a cowboy in California so I have everything from George Strait to Papa Roach and Bob Marley to E-40. Lots of '80s and '90s hits as well.
If we're visiting Sacramento, where should we eat? Ella, Bandera or Mulvaney's.
What's your favorite team? The Sacramento Kings and the San Francisco 49ers.
What do you do outside of work? I'm very involved with my 7- and 10-year-old daughters, Zoe and Evie. I coach their soccer teams and I'm a "dance dad," as they're competitive dancers in jazz, contemporary and tap.
When I have free time I am known to hit the gym or carve the local Sierra Nevada Mountains mountain bike trails. Mountain biking is my passion. My wife, Georgia, and I are also very involved in the Annunciation Greek Orthodox Church in Sacramento.