We have a great view of Golden 1 Arena from our new Sacramento, California office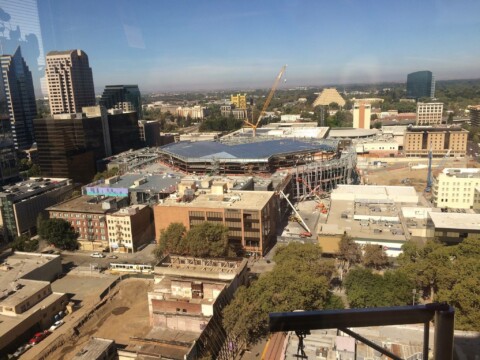 Sacramento's new arena is going up quick, and our new office is just to the left -- right next to it!
Here's more on our new offices in Sacramento, California. We're excited to tell you it's within sight of the state capitol and adjacent to the new Golden 1 Center in downtown Sacramento.
The Golden 1 Center is a multi-use, publicly owned indoor arena currently under construction. The Sacramento Kings basketball team will be the primary tenant of the new arena, according to Wikipedia, although it is expected to host other indoor sports and music concerts, as well.
For example, the NCAA chose Sacramento and the new arena to host the first and second rounds of the 2017 NCAA Division I Men's Basketball Tournament on March 17 and 19, 2017.
If you're a lawyer looking for court reporting or other litigation services in Sacramento, Huseby's new office address is 555 Capitol Mall, Suite 550, Sacramento, CA, 95814. As always, you can reach Huseby at (800) 333-2082.