As mobile usage rises in 2016, do more deposition scheduling, transcript downloading with Huseby app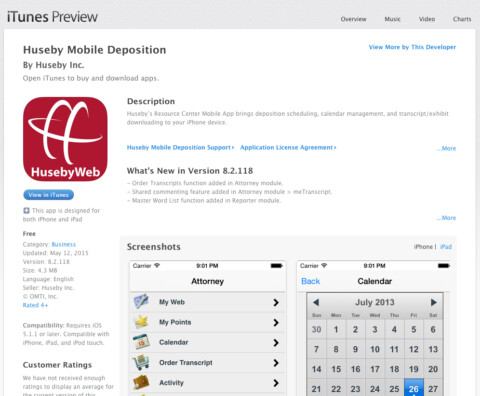 New data shows internet users around the world are spending more and more time logging on from their phones.
Mobile web use will increase 27.7 percent this year, according to a new forecast, which predicts users will spend an average of 86 minutes a day on the wireless internet. And mobile will account for 71 percent of overall internet consumption. (Fierce Wireless)
And that's why, when you're on your phone, Huseby is right there with you.
Huseby's Web resource center mobile app for iPhone and iPad is available via the Apple Store, and is also available at the Android app store.
Huseby's mobile app brings deposition scheduling, calendar management and transcript/exhibit downloading to mobile devices of mobile attorneys who need resources at their fingertips whether they're in the office in Charlotte or at a deposition in Los Angeles.
Huseby Web resources empower mobile attorneys and simplify the way they do business. Huseby allows attorneys to access their work product anywhere and allows legal professionals to instantly:
• Schedule a deposition nationwide,
• Receive calendar notifications,
• View information about scheduled depositions on your calendar,
• Make scheduling changes,
• Map directions to a deposition location,
• Download transcripts and exhibits, and
• Look up invoices and outstanding balances.
Lawyers, paralegals and secretaries can utilize the search engine to search case names and case numbers, or word search their entire repository of transcripts.
For more information on getting started with the Huseby Web resource center that's available via the app, call 1-800-333-2082.
Read more about Huseby deposition services here.