Blizzard2016: Work goes on for lawyers, legislators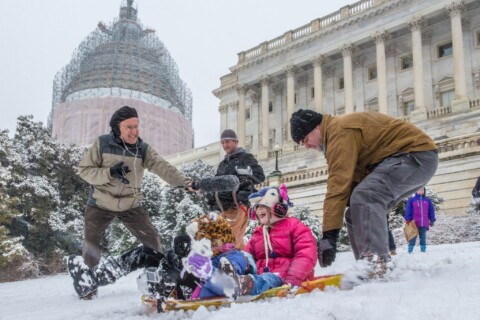 A family attempts to sled on Capitol Hill as reporters look on from behind. Photo by Joseph Gruber via Flickr Creative Commons.
The winter storm that's hitting the east coast means different things to different folks. To kids in North Carolina and the Southern-most reaches of the storm, it's a free day from school (K-12 and colleges).
To emergency workers up and down the East Coast, it's their worst nightmares come true.
To lawyers and lawmakers, it may not even be a day off work. Or it could be a day to point out the result of some recent positive legislation.
1. Work goes on, snow or no snow
For lawyers in Washington D.C., Virginia and Maryland, which are among the states being hit hardest, there's still work to do no matter the record snowfall or complications from blizzard conditions.
In an unscientific poll, though, the expectations are reasonable. "No one is expected to go to the office. We can do work from home," is the most popular response to a work-demand question -- although a smaller percentage did report having to go into the office. (Above the Law)
2. Capitol Hill now open for sledders
Also in the nation's capital, U.S. Rep. Eleanor Holmes Norton reminded constituents that it was legal to sled on the Capitol Hill grounds -- for the first time in decades. (The New York Times and others)
Attention DC kids and families: Capitol Hill sledding ban has been lifted. Go for it! https://t.co/IELPVN29Jb
— Eleanor H. Norton (@EleanorNorton)
3. New Jersey lets residents make money from snow
In New Jersey, the law was changed since the last snowstorm allowing people to shove snow for money. The state legislature agreed passed a bill to allow snow shoveling solicitation within 24 hours of a forecast storm after an enterprising teenager was told he couldn't shovel for money last year. There's also no special permit or special license required. (CBS News York)