Court reporters may dream of getting a Jaguar XF, but probably not like this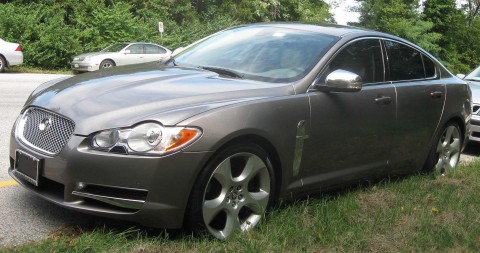 A Jaguar XF, similar to this one, crashed into a court reporting firm's office in Dayton, Ohio this week. Photo via Wikimedia Commons.
When we see news stories about court reporting, they tend to be like this recent one, which featured an online headline that trumpeted:
Court reporting offers great starting salaries, low student debt
(WKYC)
Yes, that's true, and local news outlets like this one in Cleveland, Ohio, don't ever seem to tire of doing stories about court reporting as a career. Although, if you've read one, well, you know the rest.
After a steady diet of court reporting-career stories, it's no wonder that this one got our attention.
Driver loses control, slams into local court reporting firm
(ABC22now)

This Dayton, Ohio-based TV station gives just a few facts about the incident in this initial report, and buries one of the most interesting aspects of the story: The car was a Jaguar XF, which the driver abandoned. Now that's interesting.

Have you heard anything else about this story? Let us know.

Here's the best court reporting news

We stay on top of the court reporting industry, whether it's the latest news or the latest technology.

Huseby employs a large group of the highest quality court reporters and videographers ready to work across the country -- including Dayton or Cleveland, Ohio.

Our court reporters know the needs of our clients and often anticipate those needs. The result: trouble-free depositions and a high level of mutual trust and confidence from both sides.

Huseby reporters are used to covering the hard cases. Our schedulers make sure you have the right reporter for your depositions, and we work hard to keep our clients happy.

Click here to get more details, schedule a demonstration or to get started using HusebyConnect.