Oscar's Best Picture-winning 'Spotlight' gets raves from everyone but lawyer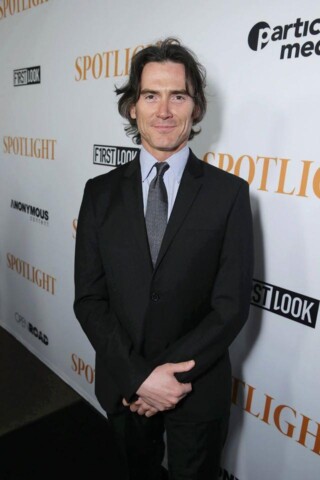 Billy Crudup plays attorney Eric MacLeish in the movie "Spotlight."
As you may have heard, the film "Spotlight" won the Best Picture Oscar at the 2016 Academy Awards this week. If you haven't seen it, you should.
The movie shows journalists at their best: working to hold powerful Catholic church leaders accountable for covering up church sex-abuse scandals. It also gives voice to those who were abused and has been cathartic for many victims.
One complaint about the movie, however, has come from the legal profession. As one abuse victim asked in a commentary in The Boston Globe (the source of the original Spotlight stories), why did they make attorney Eric MacLeish a bad guy?
The writer then answers his own question:
I guess the answer is that he counseled clients to accept confidentiality agreements in an effort to get them the best settlements.
Blame the antiquated civil laws in Massachusetts, which protect institutions such as the church, but don't blame MacLeish. (Boston Globe)
The issue is this: McLeish -- who is portrayed in the film by Billy Crudup -- won sizeable sums through a number of confidential settlements with the church. MacLeish has said the confidentiality restrictions were upsetting to him but were an "absolute condition" of the settlements. He has gone on record that he encouraged the newspaper to dig into the problem of sexually abusive priests.
Despite how he comes off in the film, MacLeish actually encourages people to see it because the subject matter is so important. But he still has reservations about how he's portrayed.
"I understand the need of Hollywood to dramatize stories and create undesirable characters, particularly if they happen to be lawyers." (Boston Globe)
Huseby makes lawyers look good

Huseby hires only the very best reporters. Each reporter is screened before hiring to ensure his or her work meets the company's high standards. When a reporter expresses interest in working for Huseby, an account executive follows a stringent reporter review process.

If you need dependable court reporting, Huseby offices offer litigation services, including court reporting, Web conferencing, video conferencing, video depositions, and more.

Call (646) 292-4050 or (800) 333-2082 to schedule.

We have more than 4,000 conference room suites worldwide ready for you to use today.