Prince to the rescue when Jimmy Fallon captioner can't find lyrics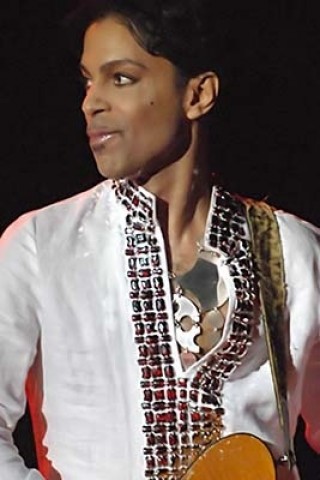 Prince at Coachella in 2006. Photo by Micahmedia via Wikimedia Commons.
A real-time production coordinator at captioning company VITAC reached out to Prince to get lyrics to two songs songs by the rocker as her deadline for "Late Night with Jimmy Fallon" was bearing down on her.
She recounted the episode in a blog post, recalling that Prince himself, who was often understandably protective of his music, approved the release of the lyrics -- one of which was a brand new song -- when he learned it was for closed captions.
Things had been proceeding normally for the captioner, who was accustomed to getting scripts and lyrics in advance. But this time the lyrics weren't included and time was tight because the music segment of the show was recorded later than the rest of the program. Making things more complicated, lyrics for the new song were unavailable on the internet.
That's when frantic emails and phone calls started to happen and, before deadline, the lyrics were made available.
"From what I can remember, it was Prince himself who was consulted and approved; once he found out they were for the closed captions!" the blogger/captioner, Brittany Bender said. (Blog)
The captioner blogged both songs were new, but only "Screwdriver" was new. "Bambi" is a Prince song that dates from 1980. She did probably need help with the lyrics, though, because as one online commenter said, " Great, but if you didn't know the song bambi, you wouldn't have understood any of the words in that performance." (Constance of Sound)
Prince's custom of making songs scarce on the internet is the reason we can't link to the 2013 Fallon show performance. But who can blame him? Since very little Prince music is available through streaming, five of his albums have reached Billboard's top 10 since his death. (Billboard)
Real-time with Huseby
Speaking of real-time, HusebyConnect provides the ideal virtual deposition environment by bringing together the most effective, low-cost way to communicate with counsel and depose a witness anywhere in the world from the comfort of your office.
With Huseby connect, you can do the following:
Use a webcam or connect directly to a videographer's video feed to view live testimony.
View and interact with a real-time transcript feed, including highlighting, notes and issue coding.
Present, annotate and mark exhibits digitally.
Improve productivity by prepping a witness remotely.
Read more about Huseby deposition services here.