2 responses to court reporter shortages in Oklahoma, Arizona show disconnect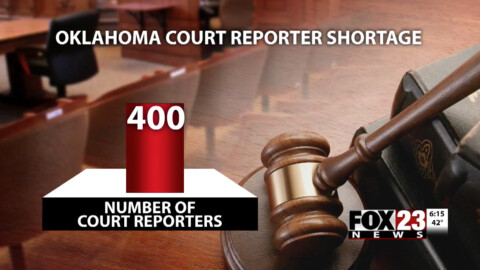 This screen grab from Fox 23 shows the current number of court reporters in Oklahoma, down 200 from the past.
Recent news reports illustrate two responses to court reporter shortages.
In Oklahoma, a state supreme court justice has created a task force to solve the stenographer shortage problem. (Fox 23)
In the meantime, fewer cases are being tried because of it.
Tulsa County Court Administrator Vicki Cox says backlogged cases aren't something they keep a count on. However, she did state that officials have noticed the shortage of court reporters, and it's becoming a problem.
The solution? An emphasis on enrolling more students to train as court reporters.

In Arizona, digital the solution and the problem are hard to differentiate.
Recording systems are continuing to replace court reporters. Yavapai County Superior Court began using a digital court recording system about 10 years ago. (The Daily Courier)
Now it's harder to find court reporters a county superior court judge says. Hmm. Could there be a connection?
"They no longer need to be in the courtroom as long as a record is made," the county court clerk says.
Huseby locations
Huseby has offices in Arizona at this location.
Phoenix, Arizona
11811 N. Tatum Blvd., Suite 3031
Phoenix, AZ 85028
Click Here to schedule with Huseby or call (800) 333-2082 to speak directly with a scheduler.