Career romance trend included astronauts, stenographers (among others)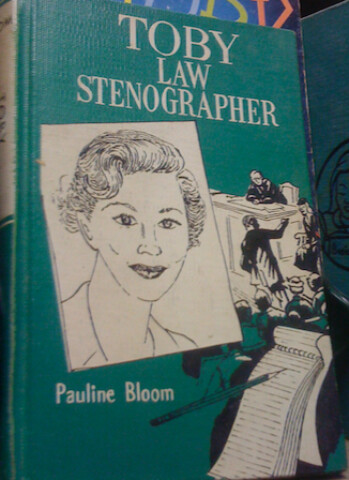 "Toby Law: Stenographer" was one in a series of career romances popular from the 1940s-1960s.
Had any romances in your career as a court reporter?
A recent story in The New York Times focuses on career romances -- but not the kind like those involving Charlie Rose and Matt Lauer.

Instead, "career romance" was a genre of books published in the 194os through the 1960s, and a stenographer was the focus of one of them. The Times reports:
There are two basic categories of career romance. The more sober variety from Julian Messner's Career Romances for Young Moderns — "Toby Law: Stenographer," "Lee Devins: Copywriter" — are conscientious and informative, often by serious writers and containing many pages of rather mind-numbingly detailed exposition.
They've become collector's items and include other subjects like physical therapist, actress and astronaut.
Here's what Kirkus Reviews said about "Toby Law: Stenographer" in a 1959 review.
Even the barren streets of a lower middle class section of Brooklyn possess a poignant beauty when one is just out of high school. And for Toby, a pretty girl with a passionate love for music, Brooklyn becomes the scene of an intense romantic conflict, on one side of which stands the egocentric composer, Toni, and on the other, Bill, a substantial young lawyer. Toby's choice, her realization that a consistent love and sharing are for her the only guarantee for contentment, evolves through her experience as a responsible employee of a law firm, and it is with mature assurance that she puts away childish things and assumes her role as a woman. A really very mechanical teen-age story with a few moments of more than surface perception. Little vocational value.