Comeback court reporters give the human touch in New York, according to Daily News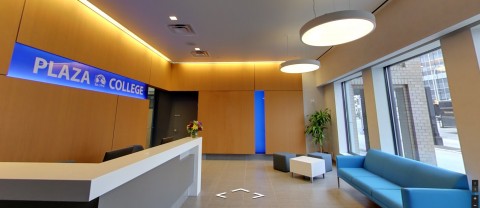 Plaza College, Queens, New York
Now the newspaper with the eighth-biggest circulation in the U.S. is on the story.
The New York Daily News (644,000 Sunday circulation) has trumpeted "Court reporting makes comeback as more legal proceedings demand human touch," in a story published this week that includes photos of stenography students practicing at Plaza College in Forest Hills, Queens. (New York Daily News) 
Here are some of the details from this thoroughly reported story.
"Right here in the city, the Surrogate's Court put in recording devices years ago, for budgetary issues, but now whenever there's a really important case, we get a call. 'Can you please come cover this trial, we need a live court reporter.' " 
                                                                                       -- Eric Allen, president of the Association of Supreme Court Reporters
It's not all good new, though:
Unfortunately, the resurgence was not enough to save the New York Career Institute, the last school in Manhattan that taught court reporting. It recently closed for good, with many of its students just halfway through their two-year degrees."

But there's hope for the future:

According to Karen Santucci, a long-time court reporter who is now a professor at Queens College, grads can start working right out of school.

"We get calls all the time from agencies who need accredited court reporters for depositions, grand juries, pre-trial meetings, all kinds of things," Santucci said.