Going for gold -- and getting it: Huseby-sponsored cyclist wins USA Cycling time trial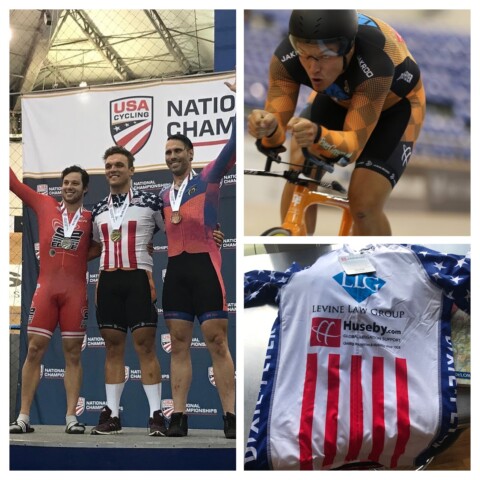 Left, John Croom stands at the center on the winner's podium. Top right, John Croom in action during the race in Carson, California. Bottom right, the winner's jersey.
John Croom won the 2017 USA Cycling 1 kilometer time trial in Carson, California with a time of 1:04.6.
Croom rides for the Levine Law Group Elite Cycling team which is sponsored by Huseby Inc.
For the next year, Croom will get to wear a special jersey featuring red and white stripes and white stars on blue, reminiscent of the American flag. And when he's not riding, he can hang his gold medal around his neck.
"My goals for the next three years are to ride with the national team (which I currently am) and make the 2020 and 2024 Olympic teams," Croom said.
The event was held at the Velo Sports Center, part of the StubHub Center, in Carson.
See the race's full results here.