Much a-boop about nothing: Betty Boop case was headache for 1934 court reporter.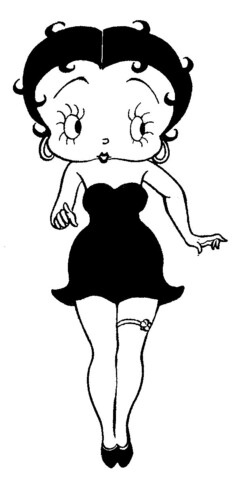 Max Fleischer's patent drawing of Betty Boop. (Via Wikimedia Commons.)
What's the silliest thing you've ever transcribed in a hearing?
Can you beat variations on the catch phrase "boop-boop-a-doop"?
Like, for example, boop-boopa doop, boop-boopa-do, boop-a-doop, or just plain boop. 
As you might imagine, those exact words caused a court reporter in 1934 to throw up his hands in frustration, according to a story of a trial involving the cartoon character Betty Boop. (History)
A singer named Helen Kane had sued the creator of the Betty Boop cartoons, Fleischer Studios, over the cartoon character's use of the phrase, which Kane said had been stolen from her. (In Kane's songs, the phrase was used as a euphemism for sex.) 
At first it seemed that Kane had a case and her lawsuit made it to the New York Supreme Court.
But it stalled there, thanks to the origins of her signature sound. The Fleischers trotted out a number of witnesses who claimed they'd heard "boops" and baby talk in nightclubs, cabarets and vaudeville theaters before Kane became famous.
The defense also presented several voice actresses to recite variations on the famous line to show just how many ways there are to say it, exasperating the court stenographer. 
Let us know about your experience with crazy transcriptions.
Court reporting in New York
Huseby hires only the very best reporters. Each reporter is screened before hiring to ensure his or her work meets the company's high standards. When a reporter wishes to work for Huseby, an account executive follows a stringent reporter review process.
If you need dependable court reporting in New York, Huseby has conference room suites in the Big Apple ready for you to use today. Huseby offices offer litigation services, including court reporting, Web conferencing, video conferencing, video depositions, and more.
Our office in Manhattan is at this location:
1501 Broadway, New York, NY 10036
Call (646) 292-4050 or (800) 333-2082 to schedule.
Looking for help in a different city? Call a Huseby scheduler and ask. We have more than 4,000 conference room suites worldwide ready for you to use today. (800) 333-2082.