When it comes to technology, are courtrooms 'ignorant to the demands of the present?'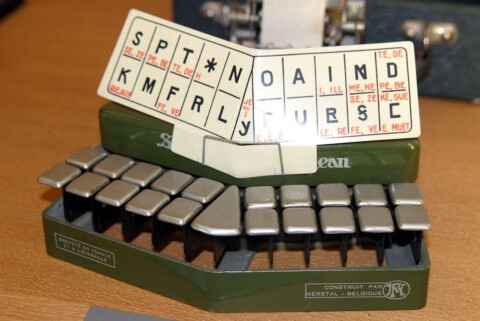 Grandjean shorthand machine, 1923. Photo by Rama via Wikimedia Commons.
Here's a story about a different kind of court reporter -- the kind who works for a newspaper.
But we think the issue at hand will relevant to legal professionals of all kinds.
It started when a court security officer threatened to kick a New York Times journalist out of a federal courtroom in Dallas for live tweeting a testimony being given by Facebook founder Mark Zuckerberg. (The New York Times)
Afterward, the reporter wrote a story about the experience and in in it surmised "that technology had outpaced many of the legal system's rules on courtroom reporting."
The new story picks up after the story is published, when the security officer sent a LinkedIn message to the reporter. To the reporter's surprise, the security officer wasn't upset about the story. He liked it quite a bit because the story, in the words of the Times:
had circulated throughout the courthouse in Dallas and had informed a conversation there about policies regarding journalists' use of more up-to-date technologies.
Many of those in the courthouse, as well as the Times reporter, concluded the rules involving the use of technology in the courtroom were fluid and "ignorant to the demands of the present."
But after the incident between the security officer and the newspaper reporter, things might be changing. The reporter learned that in a later case, a judge had allowed the live tweeting of that particular trial.
This is where you come in.
Do you think courtroom rules are "ignorant" about technology in the courtroom? Do you think live tweeting a case is OK? Or do you think journalists ought to be limited to pen and paper when they're covering a trial or hearing?
Is not allowing journalists to use their phones or computers to post to Twitter equivalent to not allowing stenographers to use the most modern, digital equipment to do their jobs?
Let us know what you think.
Issues of the day
Huseby continues to be deeply engaged in legal issues of the day. Through that engagement, Huseby can better serve all of your litigation support needs. Anywhere you need us in the U.S. or internationally, our schedulers are available and ready to assist.
Huseby also utilizes the latest in technology that is continually on the cutting edge, combined with our agency's exceptional personal touch.
Click Here to schedule with Huseby or call (800) 333-2082 to speak directly with a scheduler.