Data Security and Huseby's eDelivery of Transcripts and Exhibits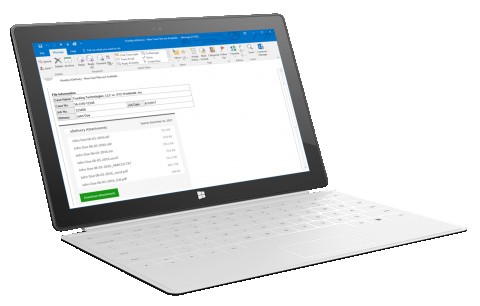 Huseby continues to leap into the age of technological advancements with paperless eDelivery and the level of data security that is provided along with this service. It is no secret that print is quickly becoming a thing of the past. With credit cards, online purchasing and pay by phone apps, people rarely need to carry cash in today's world. Everything from movie tickets, airline tickets, news articles, receipts, and monthly bills – are all being provided in digital format. There is little to no need for paper printing anymore. Huseby realizes this, which is why we introduced our new eDelivery platform in November of last year.
Huseby eDelivery is a simple, secure transcript and exhibit delivery system. Your transcripts and exhibits are delivered to your email, at the same time and in your preferred formats, no matter the file size. We continue to elevate the standard by investing significant resources into information technology designed to offer clients unparalleled security and privacy. Processes and procedures are designed to comply with HIPAA security standards.
Huseby eDelivery additionally offers better organization. Your case files are delivered and stored together, rather than receiving a transcript while still waiting on exhibits. The files can also be easily shared with team members for better collaboration.
The benefits of eDelivery, along with all other paperless options, clearly outweigh any cons. Now you have increased flexibility, less clutter, more organization, and you can work on your case anywhere and anytime. Not to mention that by going paperless you are going green and helping the environment! No more shipping and handling fees, no long wait.
Now let's talk security – Your transcript and exhibit files are encrypted both when stored and in transit. Huseby eDelivery can also further encrypt your email delivery so that only your firm can open the files. We understand the importance of your client's files and that they must remain confidential. You can trust that our technology and information security is designed to offer you and your clients the best security and privacy possible. When you entrust your case to us, we provide an experienced Case Manager as your point of contact, who works with you to understand your case needs and the security solutions that best fit those needs with the highest quality standards in the industry. We understand the challenges of your complex cases and feel that the security of your files should not be a worry of yours.
Rely on Huseby for data security when it comes to the delivery of your transcripts and exhibits.
Check out this link to learn more: contact.huseby.com/secure_digital_delivery/