Happy 2018: Law firms face challenges, opportunities as new year dawns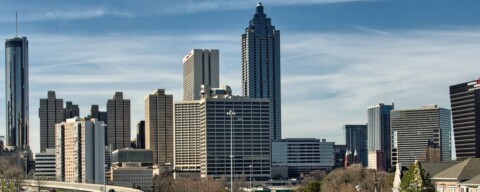 Atlanta skyline
Mergers. Client pressures. Downsizing. Cybersecurity.
Those are the themes that have emerged in law as 2017 passes into 2018, according to law publications.
Significant mergers include two Chicago firms merging with others and one of Atlanta's oldest and largest firms, Sutherland Asbill & Brennan, becoming a firm of 2,400 lawyers. North Carolina's largest firm, Womble Carlyle Sandridge & Rice, combined with UK firm Bond Dickinson. (Law.com, Crain's)
What will happen as a result of the trends of the past year? Crain's says mergers will continue, firms will get smaller and investments in technology to prevent cyberattacks will increase.
On the plus side, experts in a Law.com story forsee a rise in corporate transactional work, increased international litigation, a rise in demand for white-collar criminal defense work, more business in privacy and cybersecurity matters, and global increases in financial regulatory work.
Despite all that, there will still be "more tough sledding for the legal business in 2018, particularly for middle-market firms." (Law.com)
Huseby in Atlanta
Huseby is litigation services star in Atlanta offering services that include court reporting, Web conferencing, video conferencing, video depositions, and more. Our offices in the Atlanta area are at these locations:
1230 Peachtree Street N.E., Promenade II, 19th Floor • Atlanta, GA 30309
555 North Point Center East, Suite 403 • Apharetta, GA 30022
Huseby hires only the very best reporters. Each reporter is screened before hiring to ensure his or her work meets the company's high standards. When a reporter wishes to work for Huseby, an account executive follows a stringent reporter review process.
Click here to schedule with Huseby or call (800) 333-2082 to speak directly with a scheduler.