Methods for Creating an Impressive Trial Presentation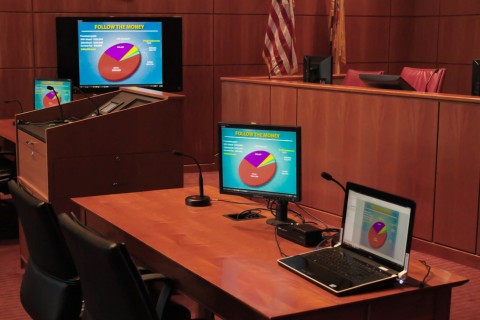 What better way to captivate the jury than with an impressive trial presentation? This is one of the many services that Huseby provides. One of our trial consultants will walk you through every step of the way.
Below are Huseby's 13 methods for creating an impressive trial presentation:
1. Striking visuals. With younger generations being a part of the jury more and more often, we are aware of how effective it is to provide visuals that help illustrate and tell a story.
2. Communicate the details. All of the details of the case will be communicated in the visual presentation.
3. Ensure that the case is well organized. Organization is a key component of preparing the visual presentation. The more organized, the more likely it is that the jury will understand the case to the fullest.
4. Make sure exhibits, videos, and graphics are presentation ready. This helps our clients focus on their case while we handle all of the details of the presentation.
5. Take an excerpt from a document to focus the jury's attention there. If there is an important piece of information in a document, the trial consultant will take an excerpt of that information to show the jury, away from the rest of the document.
6. Compare exhibits side by side to prove a point.
7. Play a witness's video deposition with or without scrolling transcript text - whichever the client prefers.
8. Display a section of the transcript to emphasize contradictory deposition testimony. This is great for the jury to see laid out in front of them, so that they have a better understanding.
9. Overlay exhibits - which is great for comparing authenticity of a signature.
10. Issue-code transcripts and print associated digests.
11. Generate designation reports and video clips for the court.
12. Redact sections of transcripts and exhibits.
13. Locate exhibits from trial workbooks in a matter of seconds.
All of these methods will combine to work in our clients' favor. Being able to tell the story from beginning to end with multimedia visuals is a tremendous advantage.
Find out more about our trial support services at huseby.com/trial-services.