​Remote Court Reporting: Video Solutions and Web Conferencing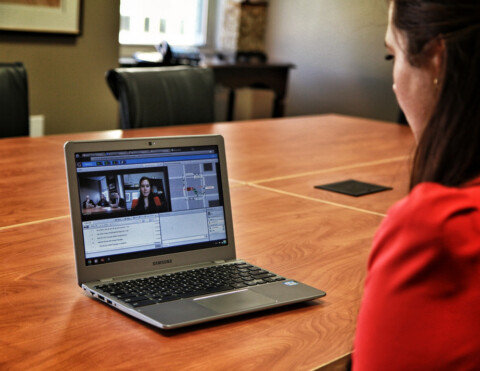 Having the option to work remotely is a luxury that employees everywhere hope for. With constant improvements in technology, this luxury is becoming more and more obtainable. Working from home has been known to increase productivity and decrease stress. Even being able to have a web conference meeting from your home-town office rather than traveling across country, is much less stressful and more affordable. Court reporting and litigation services can be performed remotely today – making depositions, witness prep and even trials more convenient for witnesses and lawyers who cannot travel.

Huseby is one of few court reporting firms that offers robust, customized remote court reporting to clients. We believe in staying up to date with the technology of today and making our services as convenient as possible. Our mission is to provide clients with innovative, new legal service offerings. HusebyConnect incorporates live video with a real-time transcript feed, exhibit presentation and other interactive technologies to support convenient and efficient remote events. Our technology is designed to comply with the most stringent security standards, including HIPAA.
HusebyConnect Web Conferencing allows clients to effectively prep a witness, attend a deposition, stream a trial, or collaborate across multiple locations anywhere in the world using the most advanced, cost-effective solution in the industry. Travel costs are no longer an issue, all you need is a computer or tablet and internet connection.
After your deposition, video-on-demand solutions like Video-Transcript Synchronization makes it possible for video to become keyword searchable. The transcript is synchronized with the video and exhibits are hyperlinked for quick reference.
Find out more about our remote web conferencing abilities under the "Video Solutions" tab at huseby.com/court-reporting.