5 Questions to Consider While Preparing for Your Next In-Person Depositions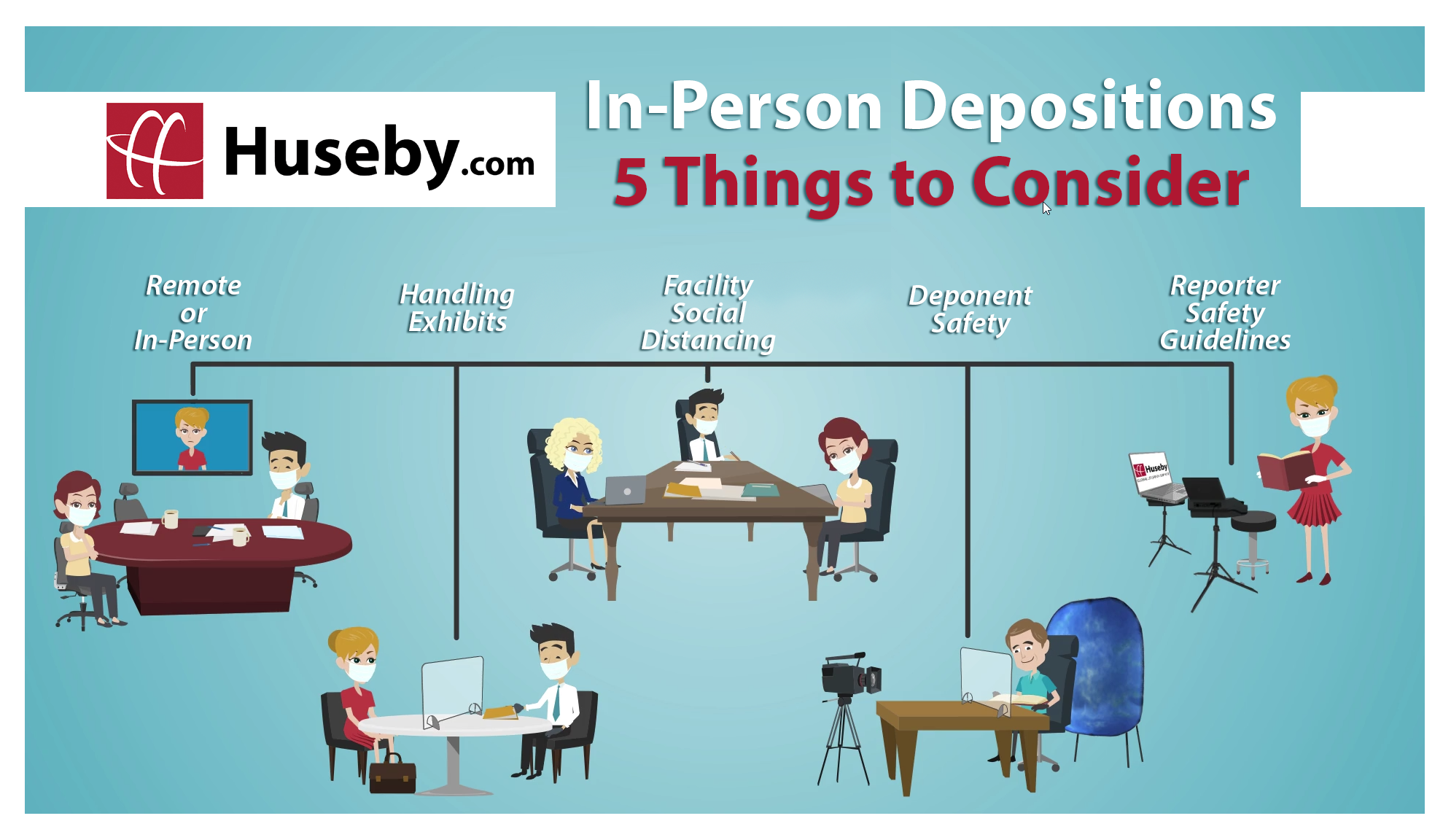 While a large portion of litigation has remained virtual, law firms across the country and starting to schedule in-person depositions again. We at Huseby are taking extra steps to ensure a safe environment for you at each of our offices. Each week we have been introducing helpful tips and informative guidelines to help you with whatever avenue you choose – remote or in person. Our focus this week is on the five questions to consider while preparing for your in-person depositions.
Question One – Will all parties be attending in-person or will some be remote?
This is completely up to each party. Huseby tailors your depositions experience to your comfort level.
Question Two - How do I handle exhibits?
If each party is attending in-person, we recommend providing copies of the exhibits to each party or wear gloves provided by us to help avoid multiple people touching the paper copies.
When there are parties attending remotely, we ask that a copy be provided to us beforehand so that we can share with the court reporter. As you prepare your exhibits, contact us – we'll provide a quick demo and walk you through the process of electronically presenting exhibits.

Question Three - Does the conference room allow for social distancing?
Each of our locations have implemented spacing guidelines that allow for proper social distancing. As you enter the office, you will notice some things are different. We have hand sanitizing stations setup throughout the office, floor markings to direct walking traffic, and other measures to ensure a safe environment.

Question Four – What are the safety options for the deponent?
Can the deponent wear a mask? If not, we can provide a plexiglass barrier, or clear head shield for the deponent – whichever is preferred. All of these are available at your local Huseby office.
Question Five – Does the court reporter have specific guidelines?
We have taken extra time to educate each of our court reporters, videographers, and team members on Huseby's in-person deposition guidelines.
Have more questions about your in-person deposition options and Huseby's safety guidelines? Live chat with your local Market Manager today!
Rather in-person or remote, we look forward to working together on your next case. Contact us today at calendar@huseby.com or (800) 333 – 2082.