Balance Life and Your Litigation with Huseby
As we continue to learn how the COVID-19 pandemic is reshaping our lives let us stop and take notice to one positive thing that has come out of this pandemic – working remotely. How many times have you had to miss your child's soccer game, piano recital, family meals, etc. because of your case load and deadlines? Gone are the days of expensive travel and time away from your home and office. With Huseby, you can attend a deposition from anywhere in the world. We make it easy by providing you with the technology that tailors to your personal comfort level.
Check out our deposition options below or by clicking here. And click here to see our full Return to In-Person Depositions video further explaining the steps we're taking to ensure everyone's safety post COVID-19.
Option 1: Connect and collaborate with all parties from remote locations.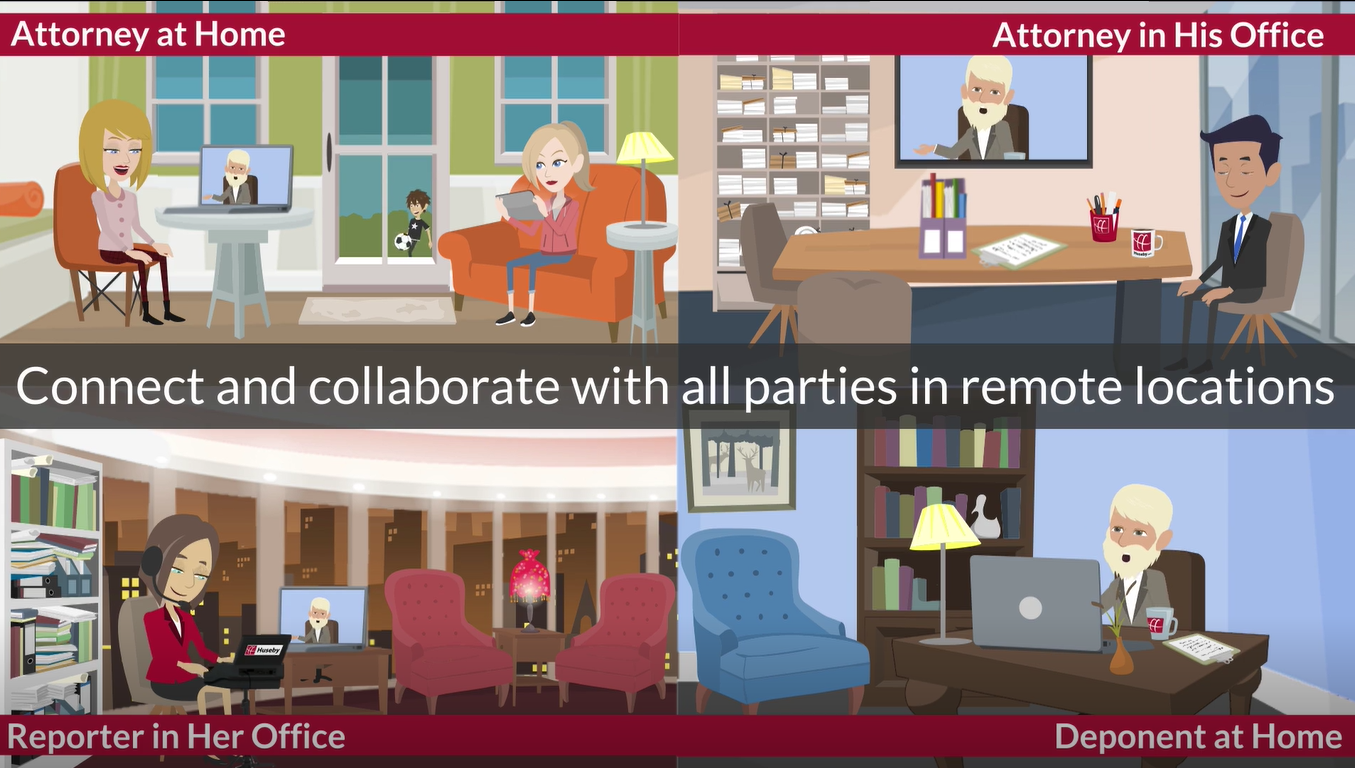 Option 2: Have all counsel connect from remote locations while the deponent and reporter are together in the same location.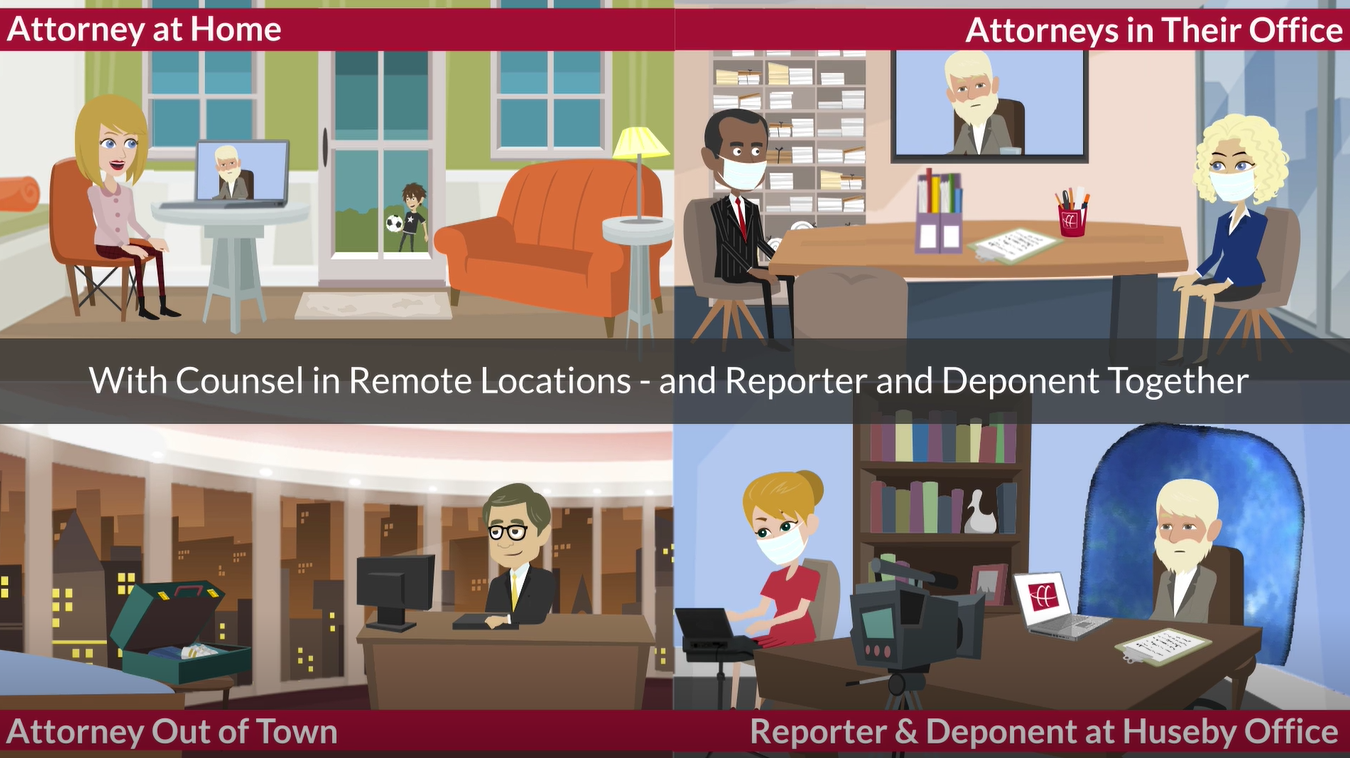 Option 3: Safely conduct depositions with everyone together in one location following all proper CDC guidelines and protocols while maintaining safe social distancing.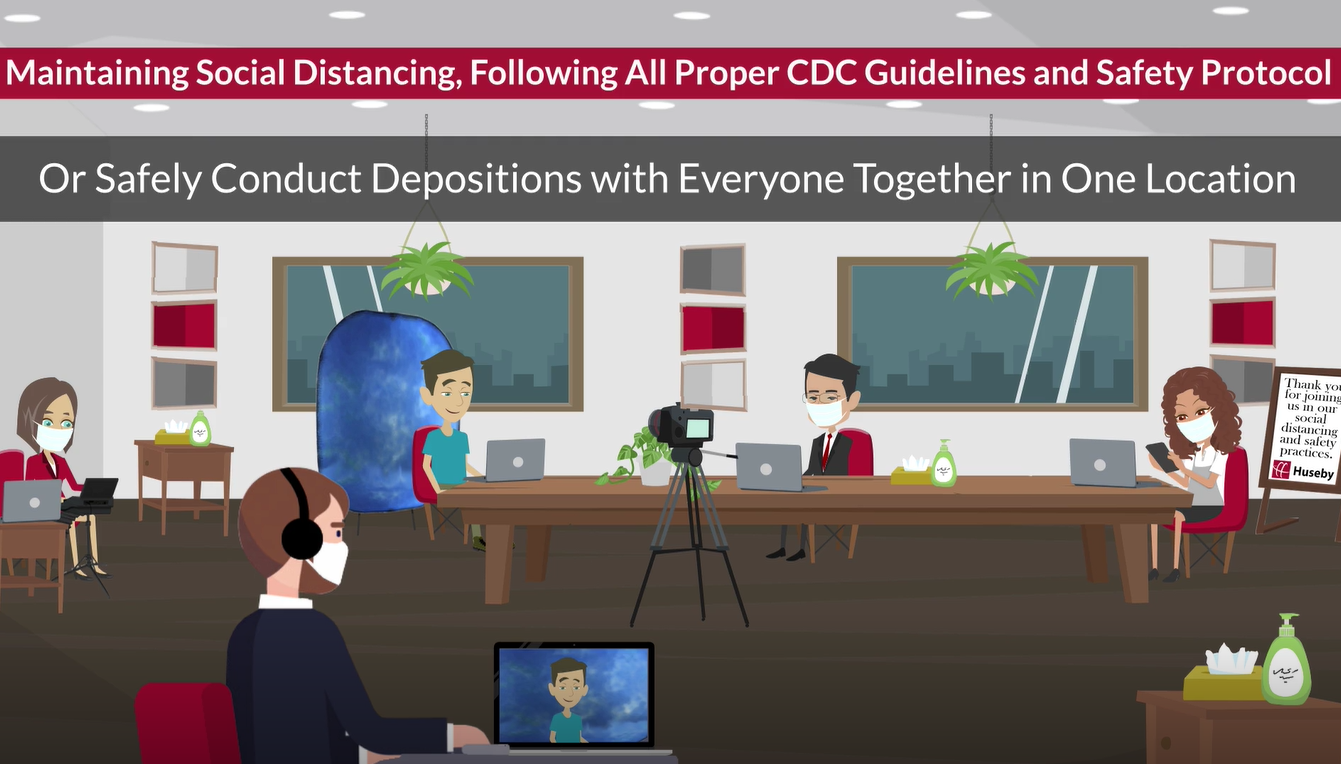 Health and Safety Guidelines for In-Person Depositions
All front office team members are trained on preparation and daily best practices.
We are arranging the workplace to provide 6-feet of distance between individuals wherever possible.
We are preparing sanitizing stations in all shared spaces including the reception area, conference rooms, restrooms, kitchen, etc. Stations can include hand sanitizer, disinfecting wipes, soap and water, or similar disinfectant and appropriate signage.
We are preparing mask and glove stations (if applicable) in reception areas and conference rooms.
Our office capacity will not exceed 50%.
In most places, we are adding portable barriers made of Plexiglas for added safety where a questioning attorney would prefer a deponent not wear a face covering when on the record.
All team members will be screened for symptoms upon arriving to work. This may include a temperature check. All team members will frequently wash hands - including when arriving to work, after contact with individuals, after performing cleaning and disinfecting activities, and frequently throughout the day.
We will be using CDC approved cleaners to:

Wipe reception desk multiple times daily.
Wipe all door handles and other hard surfaces that are regularly touched.
While in the office, maintain social distancing at all times. Team members must keep a 6-foot distance between all individuals. Gathering in shared areas is prohibited.
Wipe down all seats and tables multiple times daily.
We are continuing to actively monitor and evolve our local office protocols to promote the health and safety of our guests and team members. No matter your preference, in-person or remote, Huseby is here for you. With a team of technical support staff, schedulers, and managers we are here to ensure a seamless deposition experience – from scheduling to transcript delivery. Let us take care of all the details while you focus on making your most compelling case. At Huseby, what matters to us is what matters to you. Meet and collaborate in whichever manner is most comfortable, and when the time is right for you, we look forward to welcoming you back to any of our locations down the street and across the country.
Contact us today at (800) – 333 – 2082 or calendar@huseby.com