Let Huseby Handle Your December Depositions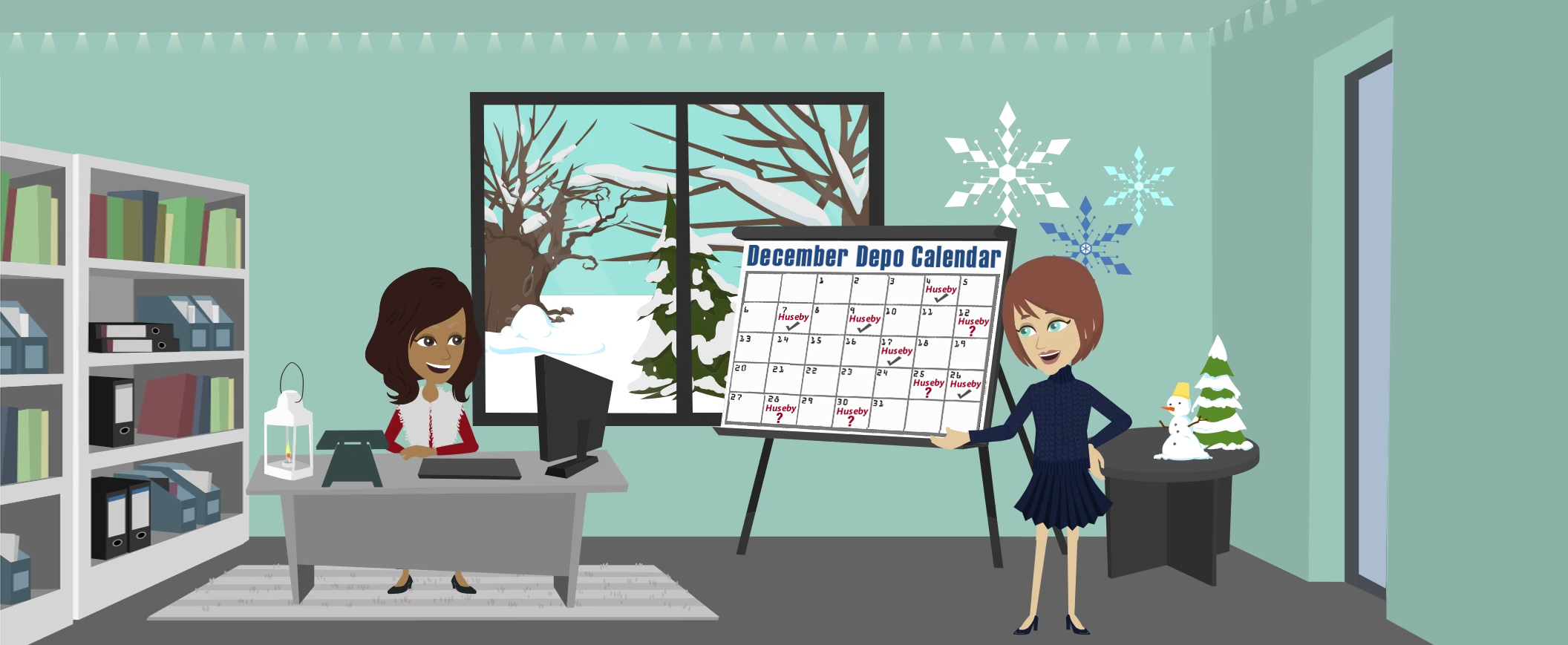 As we wrap up the year, Huseby is your one-stop-shop for all your December deposition needs. Whether your upcoming depositions are in-person, remote, or a combination of the two, we provide the tools and flexibility to tailor your deposition experience to your comfort level.
From choosing a remote platform to presenting exhibits, locating a conference room, and popular questions attorneys are asking as an opening to their remote depositions check out the information below to learn more.
In-Person Depositions
We are committed to providing you a safe environment for your depositions! We actively evolve our local office protocols to continue to promote the health and safety of our guests and team members.
We have implemented a series of steps and tools to make our environment as safe as possible. With every step of the way, we have kept in mind the guidance from local, state and national health officials. Our goal is to ensure that you have a safe in-person deposition experience.
As part of our commitment to a safe in-person deposition environment we are providing clients with face shields, clear plexiglass barriers, socially-distanced conference rooms and much more!
We look forward to welcoming you back to any of our locations down the street and across the country.

Remote Depositions
Choosing a Remote Platform
Huseby provides you multiple platform options so you have the flexibility to choose the platform that best fits your case needs and user preferences. We can also accommodate and provide a platform of your preference.
No matter which platform you choose you can rest easy knowing both come with live support. Each of our technicians are trained professionals there to help you from start to finish the day of your remote deposition.
Click here to see our Huseby Remote Deposition Expert Technicians video created just for you!

Presenting/Managing Exhibits
Both of Huseby's preferred platforms allow you to not only present exhibits, but also hand opposing counsel and the deponent a courtesy copy and access previously marked exhibits with ease.
Huseby's remote deposition solutions empower you. Have all your exhibits instantly accessible during your deposition and gain greater flexibility introducing exhibits to the deponent and opposing counsel.
You control exactly what part of an exhibit the deponent sees and when.
Previously marked exhibits are available in both platforms! Previously marked exhibits can be accessed within the integrated exhibit presentation module on your HusebyConnect platform.

Check out our recent HusebyConnect video highlighting more of the platform's features.
Popular Opening Questions
Here are a few ways that attorneys are changing their approach to alleviate the concern of witness coaching or external communication, presenting exhibits, and acknowledging remote technology. To learn more and watch our recent video, click here.
Finding a Conference Room
Huseby has access to over 4,000 conference rooms and video conference locations in the U.S. and overseas. We can service all your court reporting, trial presentation and litigation support needs. Need a conference room or remote capabilities?
Simply send us the details and let us handle the rest. You can reach out to us by calling, emailing, visiting our website, or using our new Live Chat feature that instantly connects you to a Huseby team member. To instantly connect to us via Live Chat, click on our link here.