Sign Up for Huseby's Remote Exhibit Presentation Workshop Today!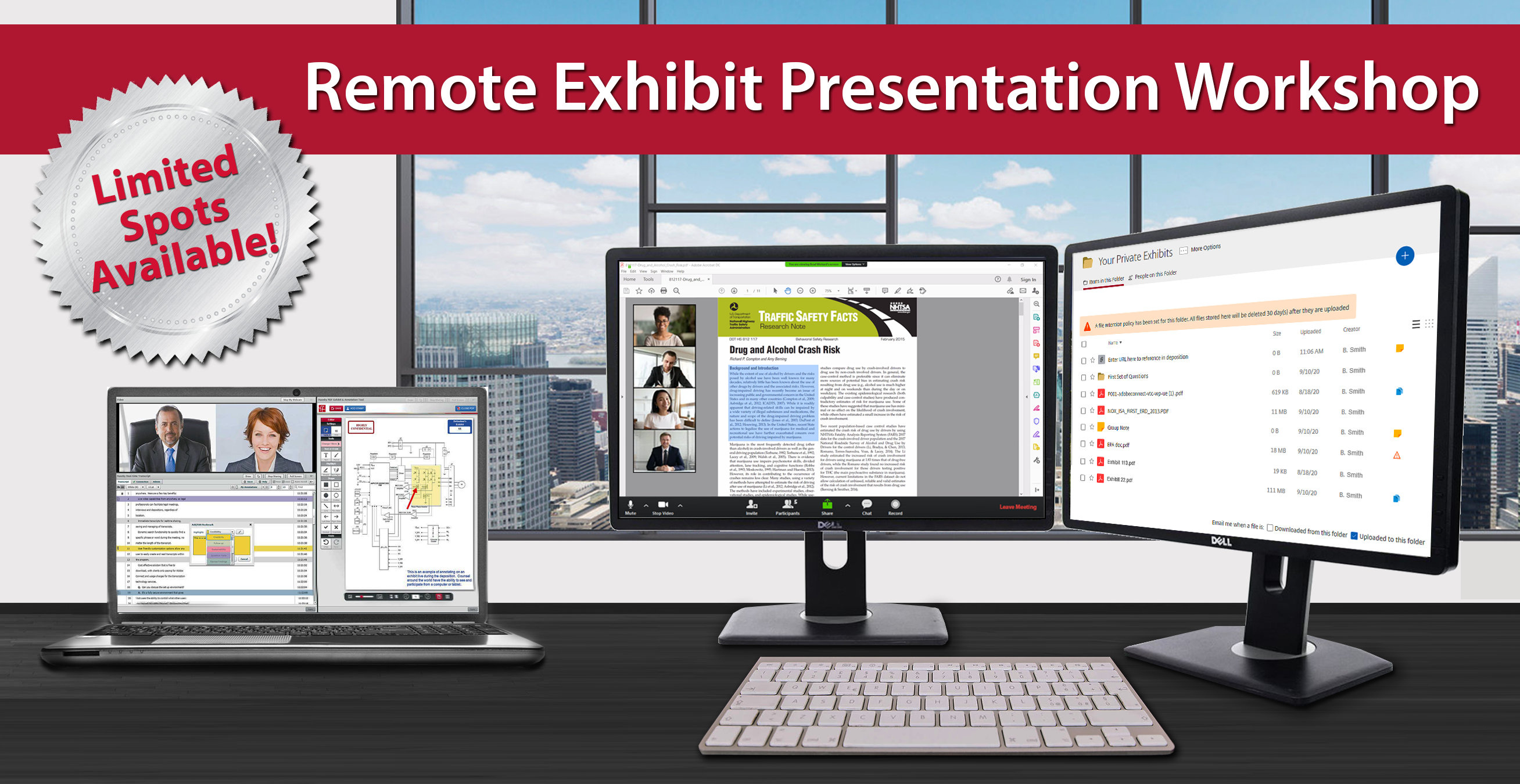 Wondering how to handle your exhibits for remote depositions as we continue to adapt to new ways of doing things in 2020? Let Huseby provide you with the solutions you need. Join us for an exclusive 30-minute workshop on how you can efficiently present and manage your electronic exhibits. The workshop is being help Thursday, November 19th at 2:00 p.m. EST. To register now, click here. Space is limited!
We'll be covering exhibit presentation as well as our two virtual platforms, RingHuseby and HusebyConnect. To give you a sneak peek, we've included some information about all three subjects below.
Remote Exhibit Presentation
Huseby's remote electronic exhibit management solutions take out the need for sending exhibits ahead of the deposition to all parties and the deponent--saving you and your team money, time, while also maintaining the element of surprise. We do all this with the idea of keeping you in control of your files. Some of the great features include:
The only tool that truly maintains the same process as paper exhibits in a virtual space.
Minimize or eliminate paper at depositions, with digital access to both newly presented and previously marked exhibits.
Can be used locally or across the world.
Practice mode allows you to become a pro before using the tool at your next deposition.
Security is essential. All data is managed, stored and replicated in real-time at one of the most secure, HIPAA-compliant, data centers in the world. All data is 256-bit encrypted in transit.
Easy to use. Schedule a demo today to see just how easy and intuitive the tool is to use.
Huseby FileShare provides you the ability to electronically hand participants in the virtual deposition room a downloadable copy of a file as it is being presented on the screen. FileShare allows you to seamlessly manage files at each deposition electronically and display on-screen in real-time.
Most of all, our solutions deliver flexibility and provide you peace of mind.
HusebyConnect
Attending depositions remotely? We've got you covered!
Huseby's remote deposition solutions provide you the ideal virtual deposition environment, allowing you to effectively communicate with counsel and depose a witness anywhere in the world from the comfort of your home or office.
View live testimony simply using an internet connection and webcam.
Present, annotate and mark exhibits with ease.
Improve productivity by prepping a witness remotely.
View and interact with a real-time transcript feed, including highlighting, notes and issue coding.
Check out our recent HusebyConnect video highlighting more of the platform's features.