Huseby's On-Demand Video Deposition Solutions
Did you know 93% of communication is non-verbal? A transcript alone doesn't tell the whole story. Video is a powerful, strategic tool that goes well beyond your deposition, and allows for a more engaging and persuasive trial presentation.
Only through video can you communicate non-verbal information, such as tone of voice, pitch, volume and body language.
As we are all adapting to the challenges of COVID-19, you might be wondering how you can still get a high-quality, trial ready video of your remote depositions. That's where we come in. Huseby's expert video team is ready to provide you the tools and technology to help you make your case in the court room.
Huseby's video solutions take your trial presentation to the next level by empowering you to:
· Easily compare actual testimony to written record
· Keyword search video, transcript, and exhibits at once
· Make video clips instantly and share key pieces of testimony
Whether your depositions are remote or in-person, discover how on-demand video solutions can take your trial presentation to the next level by viewing our short video below.
Video-Transcript Synchronization
View your deposition video and a scrolling transcript side-by-side. Exhibits are hyperlinked for quick access and synchronization of the transcript allows you to keyword search the video.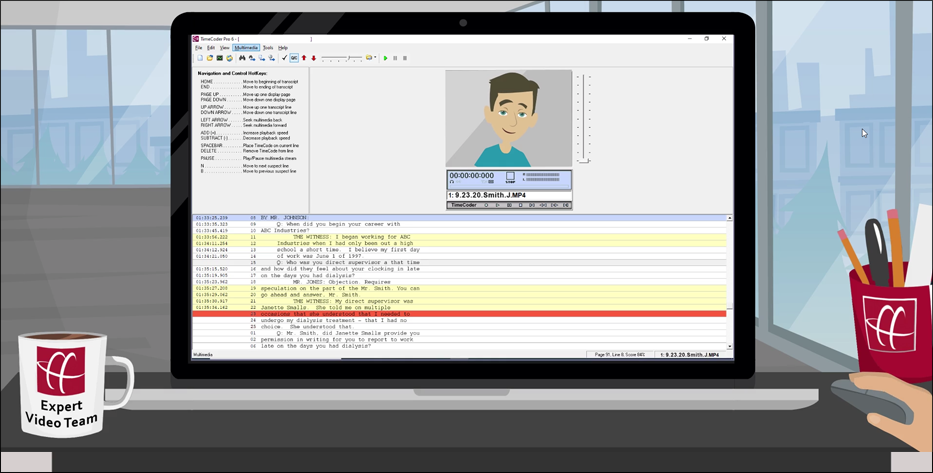 Video Clip Creation
Make video clips instantly and share key pieces of testimony. Clips can be created in just a few clicks and emailed or exported to your desktop, Summation, TrialDirector or directly into PowerPoint for opening or closing statements.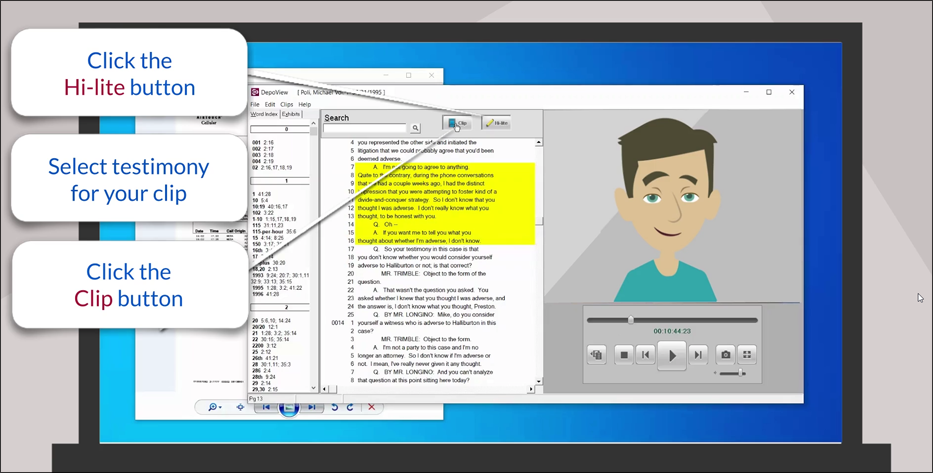 Trial-Ready Video
Creation of a clip library allows you to manage clips for trial and export multiple clips, or multi-segment clips at one-time. Video-transcript synchs are provided in LEF, SBF and/or XMEF formats for your convenience.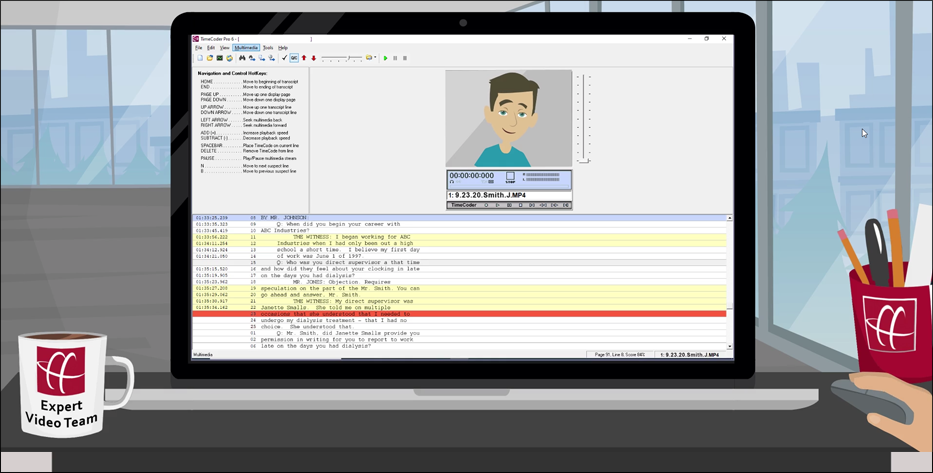 Huseby's expertise doesn't end with the synced video file. We're here for you every step of the way. Huseby provides full-service support throughout the lifecycle of your trial with consultants that bring years of courtroom experience to your team.
From the war room to the courtroom, with our assistance, your team can focus on strategy rather than how to present and display exhibits and video in court.
Reliable deposition solutions are important to you, now more than ever before, and we are working around-the-clock to deliver "excellence in every interaction."