Huseby Launches All New Web Resource Center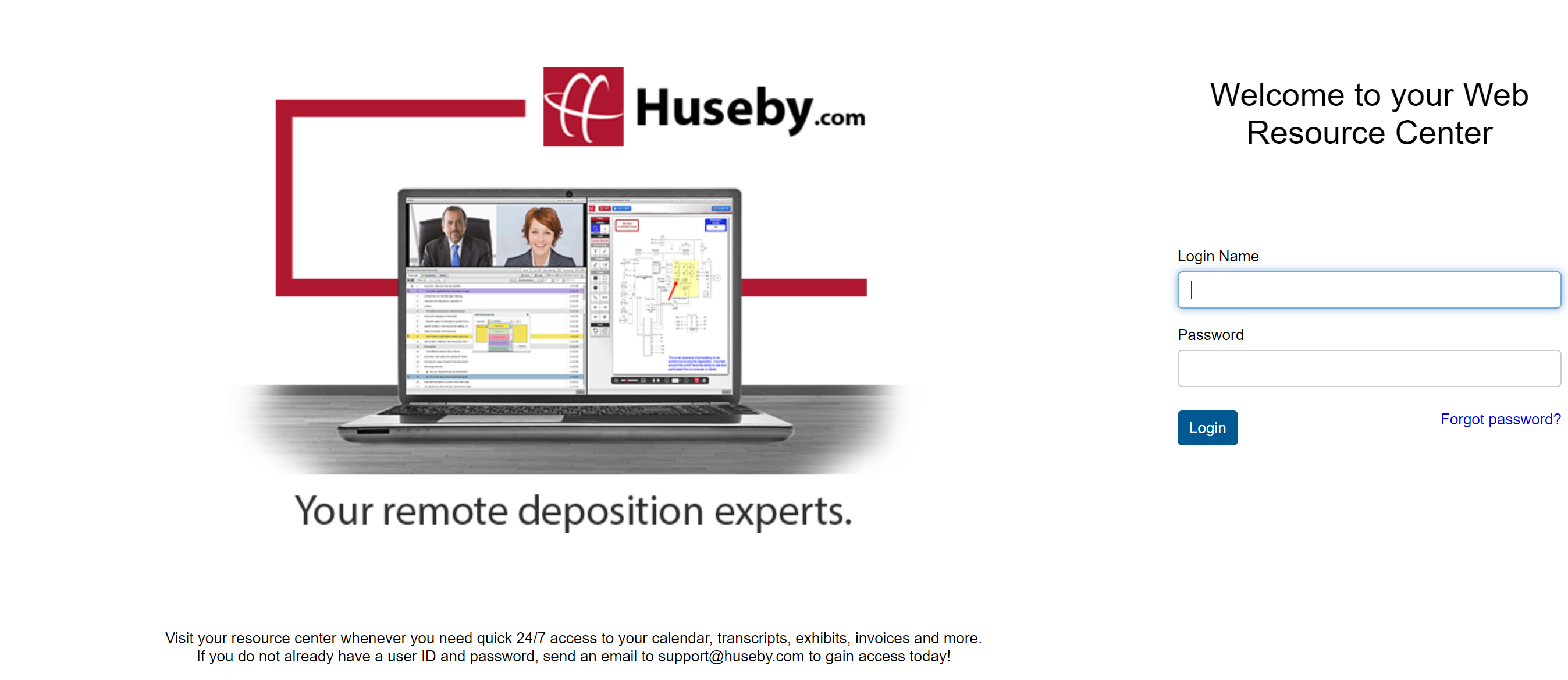 The redesigned, mobile-friendly, Web Resource Center from Huseby is here! With upgraded features and tools, your Web Resource Center allows you to seamlessly view and manage your case files in one place. We know you're curious about what's included so we're highlighting a few features below.

Easily schedule and view a calendar of events
It's never been quicker to schedule with Huseby. Along with our Live Chat, calendar team, and website form, you can schedule through your Web Resource Center. To schedule a deposition, select the button on the top right on your Jobs tab. Enter in the job details and our Calendar Team will send you an email confirmation shortly following receiving your request.
View event details, including map directions
Your Resource Center also houses all your upcoming deposition details! To view job details, select the Job No. highlighted in blue under the Jobs tab. View the job location on Google Maps by clicking the map icon to the right of the listed Address. In just a few clicks you're on your way.
Quickly keyword search case files
Your search is easier than ever using the keyword search. Quickly find specific testimony through all of your uploaded case files.
Order transcripts
Have you ever searched and searched to find a transcript on your repository, but your aren't sure if you actually ordered it? Those days are long gone with your new Resource Center. Simply click on the Order Transcript tab. From there you'll be able to see if a transcript has been ordered or not.
Those that have not been ordered have a "Request Order" option. Our production team is alerted, and your transcript is produced! You can also request a cost estimate and select your transcript order preferences.
View invoices, invoice detail and create reports
Under Account Activity you can manage and view invoices by case, outstanding balances, and invoice details. Once you select a specific job can easily view job details and payment information associated with that job.
Securely connect on any platform, including your mobile device
Our new platform is now mobile-friendly! Connect to your Web Resource Center any time, anywhere. Your Web Resource Center works on desktops, laptops, smartphones, and tablets. Try it out today!
Should you need assistance logging in to your account, please contact our Support Team at support@huseby.com or give us a call (800) 333-2082, ext. 6001.
Because we know you might need additional support with the different tools, we've included contact information for those department's below.
General Support
For all general matters, such as logging in, locating specific transcripts or jobs, downloading files, and navigating your Web Resource Center, please contact Customer Service at support@huseby.com or (800) 333-2082.
Invoice Support
For invoice matters, such as locating invoices or pricing inquiries, please contact your Account Manager or our Accounts Receivable Department at ar@huseby.com or (800) 333-2082.
Scheduling Support
For scheduling matters, such as assistance with scheduling a deposition, please contact our Calendar Team at calendar@huseby.com or (800) 333-2082.
Questions or Comments?

Should you have any questions, comments or suggestions for this user guide, please contact info@huseby.com.