Huseby Hosts Virtual North Carolina Paralegal Annual Meeting
On Friday, March 26th, Huseby had the privilege of virtually hosting the North Carolina Paralegal Association's 41st Annual Meeting & Seminar. Normally an in-person event, the NCPA relied on Huseby to provide remote technology and to facilitate the event virtually - and it went off without a hitch.

During the remote seminar, attendees were guided from session to session for easy viewing by Huseby's North Carolina Market Manager, Hillary Creech, in addition to being provided with on-demand support throughout the entire event. Each session was professionally recorded by two of Huseby's veteran videographers, Billy Ruffin and Dillon Tyndall, for later viewing for those who couldn't readily attend.
With over 50 paralegals across the state of North Carolina in attendance, the NCPA delivered a successful annual seminar, which allowed paralegals to earn up to 8 CPE credit hours approved by the North Carolina State Bar Board of Paralegal Certification and NALA.
"I just wanted to say thank you all so much for a very enjoyable virtual conference! I thoroughly enjoyed all the speakers!" - NC paralegal attendee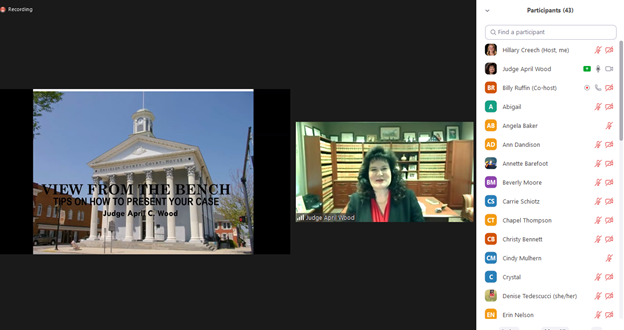 "Huseby went above and beyond to make sure that the North Carolina Paralegal Associations' virtual Annual Seminar and Meeting was a success!! Hillary, Jill and Brad listened to our concerns and suggestions and came up with the best solutions to make this new adventure work smoothly. Hillary was with us all day to make sure any technology issues were handled quickly. She took care of setting up the links and working with our speakers, and they even promoted the seminar to Huseby's contacts. We could not have asked for a better group to handle our technology and recording. Look forward to working with the Huseby crew again!!!" - NCPA President, Beverly Moore
Huseby has sponsored and participated in the North Carolina Paralegal Association Annual Meeting & Seminar for over 5 years, and we look forward to many more!
For more information about viewing the NCPA seminar videos, visit https://www.huseby.com/ncpaseminars
To learn more about the NCPA, visit their website at https://www.ncparalegal.org/.
Have a virtual meeting you need help with? Contact us today! (800) 333 - 2082 or calendar@huseby.com.