Select a login option below
×
Court Reporting Services
Since 1928, the Huseby family has been consistently delivering a smooth and seamless court reporting experience. With local court reporters across the country, you can count on personalized, hands-on service - every time. Our mission is to provide you excellence in every interaction.
Huseby's court reporting services include:
Interactive Real-time
Interactive real-time allows you to have instant access to a live transcript feed as it is being taken down by a highly skilled, and experienced real-time reporter. You have the ability to keyword search the transcript, mark key sections for later reference, highlight and issue code text and make notes all during the event. After you can save the draft transcript, with your marks and annotations, in your portal or export locally to your computer, or to Summation, LiveNote or CaseMap. All of these tools are available to you whether you are sitting in the same room as the reporter, in a war room at trial, or attending a deposition from across the world.
Data Security
Huseby takes data security very seriously and has committed significant resources to ensure our clients have the most secure data and client information in the industry. These procedures and safeguards ensure the highest standards of confidentiality are met both in our production facilities and data centers. As an example, no client information is stored on local workstations. All data is stored in world-renowned SSAE16 SOC-1 Type 2 certified datacenters with the highest security ratings for any datacenter company. Data is encrypted with the highest 256-bit encryption in transit. Our processes and procedures are designed to comply with HIPAA security standards.
Exhibit Management
Huseby's revolutionary exhibit management tools allow you to electronically manage, present, annotate and mark exhibits during a deposition. Seamlessly manage hundreds, or even thousands, of exhibits at each deposition digitally and display in real-time. You also have access to all previously marked exhibits electronically, eliminating the need to ship boxes from one deposition to another. After the event, you have immediate access to your exhibits from your computer, tablet or mobile device to begin annotating and making notes on your electronic copy. You can then send those annotations in PDF to your paralegal, co-counsel or expert. In addition you have the ability to keyword search your entire database of exhibits and create expert witness banks. All exhibits are hyperlinked to the transcript in PDF, LEF, SBF and/or XMEF formats for your convenience.
Video Solutions
Video Conferencing
Huseby's broadcast quality video conferencing suites across the country provide a state-of-the-art video experience. Conference rooms are equipped with high definition video screens and high-quality room speaker systems. Using the latest in bridging technology, connect as many locations as needed, including laptops through HusebyConnect.
HusebyConnect Web Conferencing
HusebyConnect web conferencing allows you to effectively prep a witness, attend a deposition, stream a trial or collaborate across multiple locations anywhere in the world using the most advanced, cost-effective solution in the industry.
Instantly connect video around the world with just a computer or tablet and an internet connection.
Utilize robust video conferencing capabilities with a built-in webcam, external 1080p HD webcam or connect directly to a professional videographer's video feed.
View an interactive real-time transcript feed.
Present, annotate and mark exhibits digitally.
Virtual break-out rooms and secure chat rooms allow for private communication.
Event recording for deposition or trial preparation can be securely played back anywhere, anytime.
Improve productivity by prepping a witness remotely or collaborating across multiple office locations preparing for trial.
Video-Transcript Synchronization
Our technology allows video to become keyword searchable. The transcript is synchronized with the video and exhibits are hyperlinked for quick reference. Clips can easily be created and emailed or exported to your desktop, Summation, TrialDirector or directly into PowerPoint for an opening or closing statement. Creation of a clip library allows you to manage clips for trial and export multiple clips, or multi-segment clips at one-time. Video-transcript synchs are provided in LEF, SBF and/or XMEF formats for your convenience.
Mobile Technology
Take advantage of Huseby's mobile and online technology to simplify the way you access your work product. Our proprietary tools allow the flexibility 24/7 to access files wherever and whenever you need it from your laptop, tablet or mobile device.
View your calendar of upcoming events.
View invoice activity by case, date range or account status, including outstanding balances.
Search all transcripts and exhibits by case, date range, witness bank or file description.
Make highlights and notes on transcripts and exhibits, and synch back to the desktop or send to a paralegal, co-counsel or expert.
Join live events remotely with instant access to content created at the event.
Complex Litigation
Every case deserves top-line case management. Our case managers are ready to roll up their sleeves and work with you. What you get is dependable communication and reliable organization. Our consultative approach to the development of solutions is the keystone to help you manage your case – We work closely with you to understand the factors that drive the case and to explore creative solutions that provide the best value for your money. We make sure what you need is what you have.
Case Managers
Our primary goal is always to identify the strategies, techniques and technologies that can save our clients time and money throughout the litigation lifecycle. Our consultative approach to the development of solutions is the keystone in this effort – We work closely with you to understand the factors that drive the case and to explore creative solutions that provide the best value for your money.
Quality Control
Huseby's robust Quality Control Department is dedicated to achieving the highest quality standards in the industry. Significant resources have been dedicated to ensuring your deposition experience will be letter-perfect.
There are two phases of Quality Management (QM) at Huseby;
Quality Control (do the right thing) – This happens on the front end and resolves any questions regarding the input from the client and the court reporter prior to any production.
Quality Assurance (do it right) – This occurs after production to ensure all work product is produced accurately, correctly and is shipped appropriately.
Huseby's production process follows a six-sigma protocol designed to ensure nothing is missed. Quality is an important part of the business and Huseby is dedicated to producing a world-class product.
Work with a team that understands the unique needs of your practice, increases efficiency and drives results.
Timely, Accurate Transcripts
The Highest Standards
Many of the court reporters you see locally every day have been with us for decades. They know the needs of our clients and often anticipate those needs. The result: a smooth and seamless deposition experience, from scheduling to timely delivery of your transcript.
Industry Expertise
Huseby's court reporters nationally are used to covering the hard cases. It starts with a reliable scheduling team and close attention to detail to make sure you have the right reporter for your depositions.
IP (Intellectual Property)
Medical Malpractice
Toxic Tort
Construction
Asbestos
Pharmaceutical
Products Liability
Financial Services
Worker's Compensation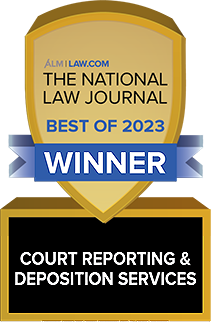 Quality Control and Quality Assurance
---
Huseby's Production Department is dedicated to achieving the highest quality standards in the industry. Quality control activities are an important part of our business with significant resources dedicated to producing a world-class product.
---
Our Quality Management (QM) program is part of who we are. We have a culture that believes in quality and we empower our people to be their best every day. Huseby has a client-focused culture of continuous improvement.
Why do we care so much? Regardless of where your deposition takes place our product is consistent and to specification. It is just that simple.
Huseby is my go-to company for court reporting and videographer services. In addition to providing excellent work product, Huseby is great at working with attorneys regarding details such as finding a location for an out-of-town depositions or assisting in making remote depositions run smoothly. I highly recommend Huseby to all attorneys.
Attorney
Weinberg, Wheeler, Hudgins, Gunn & Dial
Over the years we have developed a great partnership with Cindy and the Huseby team. Given the current climate and the many changes to how depositions are now conducted, we rely heavily on Huseby to provide our firm with remote solutions. Whether it's suggesting the best remote platform, technical assistance or training for our attorneys, Huseby has been there every step of the way and has not let us down.
Attorney
Greene, Broilet & Wheeler, LLP - Santa Monica, California
Huseby has been an incredible resource in this new era of remote depositions. They are responsive, resourceful, and offer a client focused approach to their services and training. They have helped us address, and respond to, every new challenge with timely and insightful advice and suggestions.
Attorney
Hernandez & Paglia LLP, California
Huseby has helped us through huge cases impeccably. Their team is always available to address last minute requests and high-volume needs are never an issue. We have been using their services for many years, but in 2020, they played a vital role in our pandemic success. They were able to seamlessly transition us to remote depositions as soon as the pandemic required it and we never skipped a beat! You will not find a better court reporting company.
Attorney
Morgan & Morgan
I have had the pleasure of working with the team at Huseby for several years. All departments have provided service above and beyond others in the same field. I have always been able to reach any of their support staff from scheduling, production, billing and special services with any questions or concerns and they respond quickly with options/resolutions to my issue. One of my favorite services they offer is finding a court reporter and location in another state. I always trust their choice as they have a huge network of reporters and if there is ever any issue, they handle it on our behalf. It is so refreshing to work with people that know their job, enjoy their job and do their job well!
Attorney
Blasingame, Burch, Garrard, Ashley P.C.
I just wanted to take a moment to say a huge thank you!! I am so happy I found Huseby to help with our deposition needs, you guys are by far the BEST with communication, sending links quickly, responding so swiftly to all of my emails, precise timing with sending transcripts and my list could go on and on! So once again thank you and I'm so happy I found Huseby. Here's to many more opportunities to work together in the future.
Paralegal
Wilkes & McHugh
I've been practicing law for over 20 years and have taken countless depositions. Having a dependable and accurate court reporter is essential. Huseby's court reporters have continuously exceeded my expectations. I can't say enough about their accuracy and dependability. I give them my highest recommendation.
Attorney
Werner Law
"Not only was your technical performance superior, but you managed to maintain a remarkable balance, collegiality, and good humor in the face of multiple lawyer demands and many late night hours throughout a long, complex trial. Your commitment, courtroom experience, and extensive preparation for each day of trial ensured that the exhibits, deposition transcripts, video clips, on-screen highlighting, transformation of diagrams and demonstratives, among others, were seamlessly retrieved and projected in perfect sequence and on cue. While it was abundantly clear to us, even opposing counsel recognized the disparity between the services you provided and those of their consultant."
Hotseater
Foley & Lardner
Thank you and your team at Huseby for your excellent customer service. Our department has had some complicated deposition requests that have been handled very smoothly. Especially with the challenges of this year, we are so appreciative of having the option of virtual depositions. We have received wonderful support and service during all our interactions with Huseby and look forward to working with you all in the future.
Gwinnett
County Government
I can always count on Huseby! Whether I schedule a deposition a month or a day in advance, the Huseby team always pulls through and does a great job for our firm and our clients. I always appreciate their responsiveness and professionalism.
Attorney
Burkhalter Law