Select a login option below
×
Huseby
Connect
Introducing the all new HusebyConnect 2.0!
We asked clients across the country, "what is most important to you to have a seamless remote deposition experience?"
We listened! We put your feedback into action, and are excited to introduce our newly redesigned remote deposition platform, HusebyConnect 2.0!
Along with a new and improved user experience, here are a few things you can expect:
The only remote deposition application to utilize tiles: fully customize your presentation experience
Easily Upload and Manage Exhibits Pre-deposition
Robust Live Exhibit Presentation Tools
Video & Audio Zoom Integration
Screen Sharing Tools
Learn more about Huseby
Connect's

many robust features:
The new HusebyConnect 2.0 is the only remote deposition application to
utilize tiles - allowing you to fully customize your presentation experience,
by providing you the flexibility to personalize your screen layout.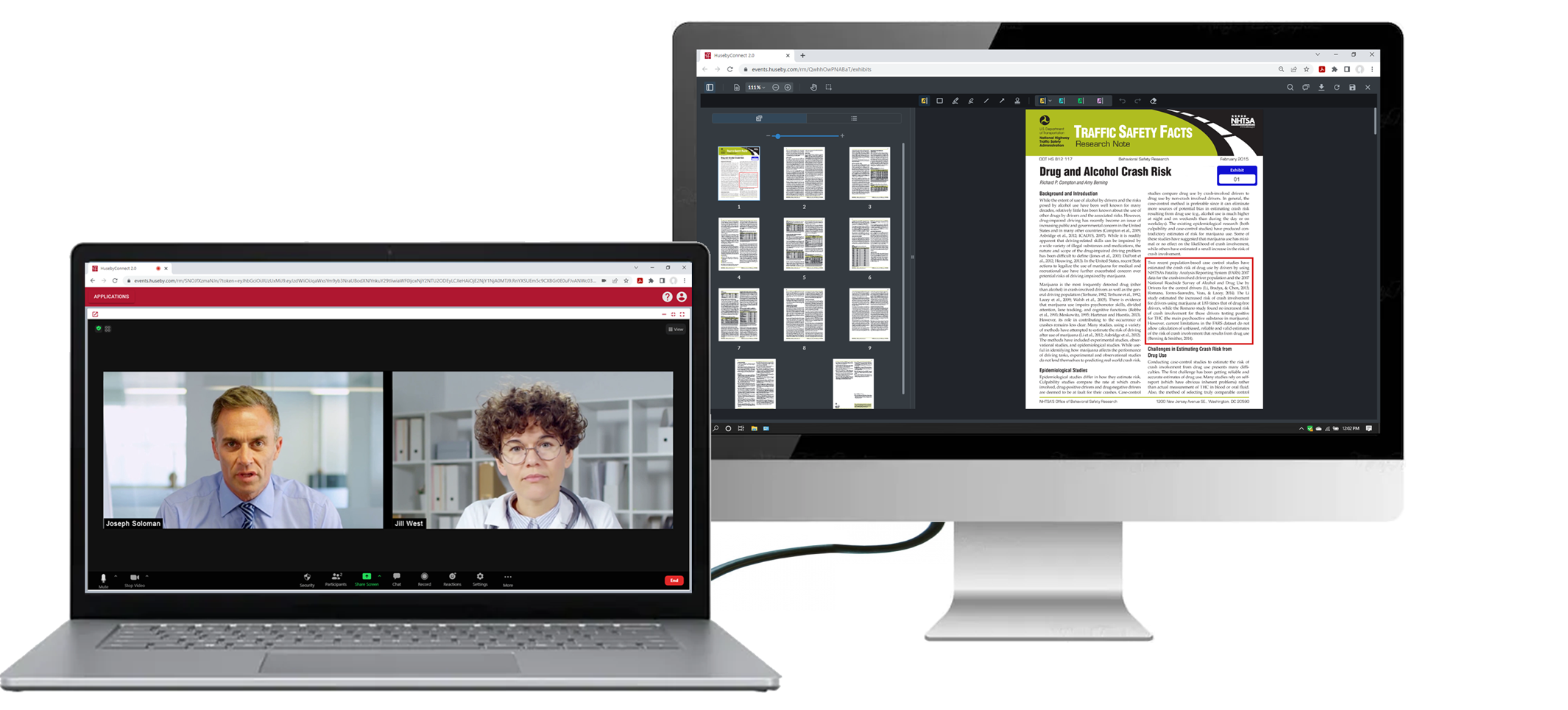 Key Features:


Extend Application into Separate Window - Extend a tile to a separate window to take advantage of multiple monitors.

Responsive Resizable Tiles - When resizing, tiles are responsive. As an example , when resizing the Video tile, video will resize automatically to fit the window.
Add/Remove Tiles from Screen - The "Applications" button features checkboxes to add or remove tiles from view.
Rearrange - Move tiles with ease by dragging and dropping.
Fullscreen View or Normal View - Individual tiles can be made fullscreen. When exhibits are not being presented, easily make the Video tile fullscreen.

Live Video
HusebyConnect provides rich multimedia and video experiences by integrating Zoom video and audio conferencing in a robust platform on which to view, with only a web browser needed. HusebyConnect allows you to access and share robust media without requiring any downloads, enabling participants to enjoy a truly face-to-face experience.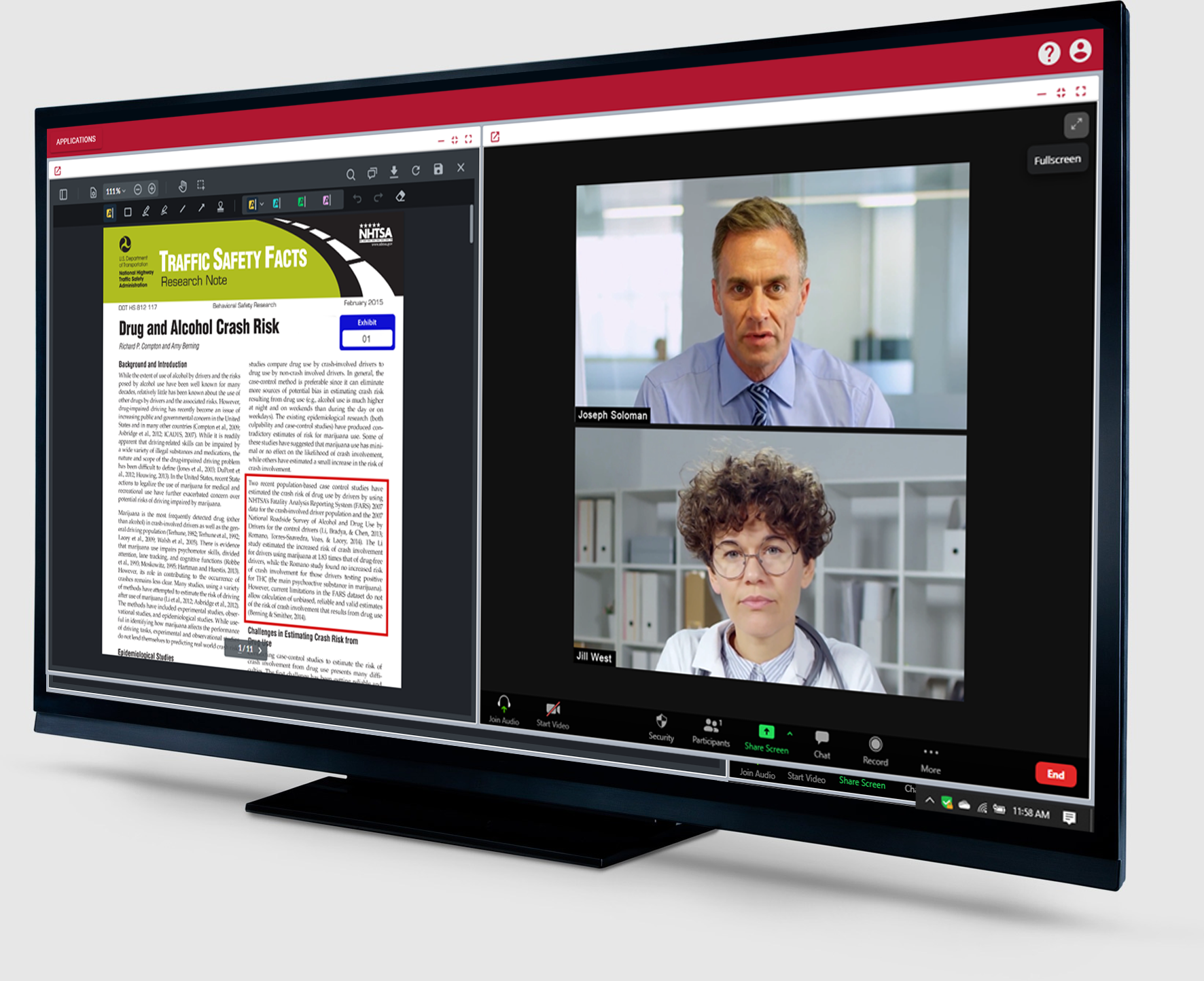 How it Works
Video can be displayed in multiple formats: Gallery View displays all participants in the same size video picture. Speaker View displays the current speaker in a larger video picture and participants in smaller video pictures.
Pinning a video allows a user to "pin" a specific video, such as the deponent, in a larger video picture with other participants in smaller video pictures.
Video can be displayed in panel view or full screen view. When in full screen view, users will be notified if an exhibit is being presented to toggle back to panel view.
Features
Display and view video from virtually any device.
New TILES interface allows for extending application into second window to take advantage of multiple monitors; is responsive, resizable, and can be rearranged. Tiles can be added or removed – then repopulated, or can be viewed in fullscreen mode.
Resize the video module by dragging the panel to the left to make the video a larger portion of your screen.
In Gallery View, grab a participant's video and move it to another section of the video module to rearrange the order of the videos on your screen.
Manage Exhibits
Take advantage of an easier way to manage exhibits pre-deposition to prepare for your remote events.
When working in your Manage Exhibits module, uploading and organizing exhibits for your upcoming deposition is smooth and seamless! Grant custom folder permissions per firm member such as upload, download, delete. Preview exhibits before launching in your live event.


How it Works
Use Manage Exhibits Module to pre-load and organize exhibits and files pre-deposition
Create folders or drag-n-drop existing pre-populated folders into Manage Exhibits Module
Drag-n-drop individual or multiple PDF exhibits
Collaborate with colleagues by sharing pre-loaded exhibits with ease
Click on exhibit files to preview in the Preview Window
Features
Easily navigate between folders and folder hierarchy
Share pre-loaded exhibits or folders with colleagues
Manage team permissions for exhibit folders: upload, download, delete, more
Bookmark exhibits for quick access
Rename and add descriptions to uploaded exhibits
Pre-Load and Organize Exhibits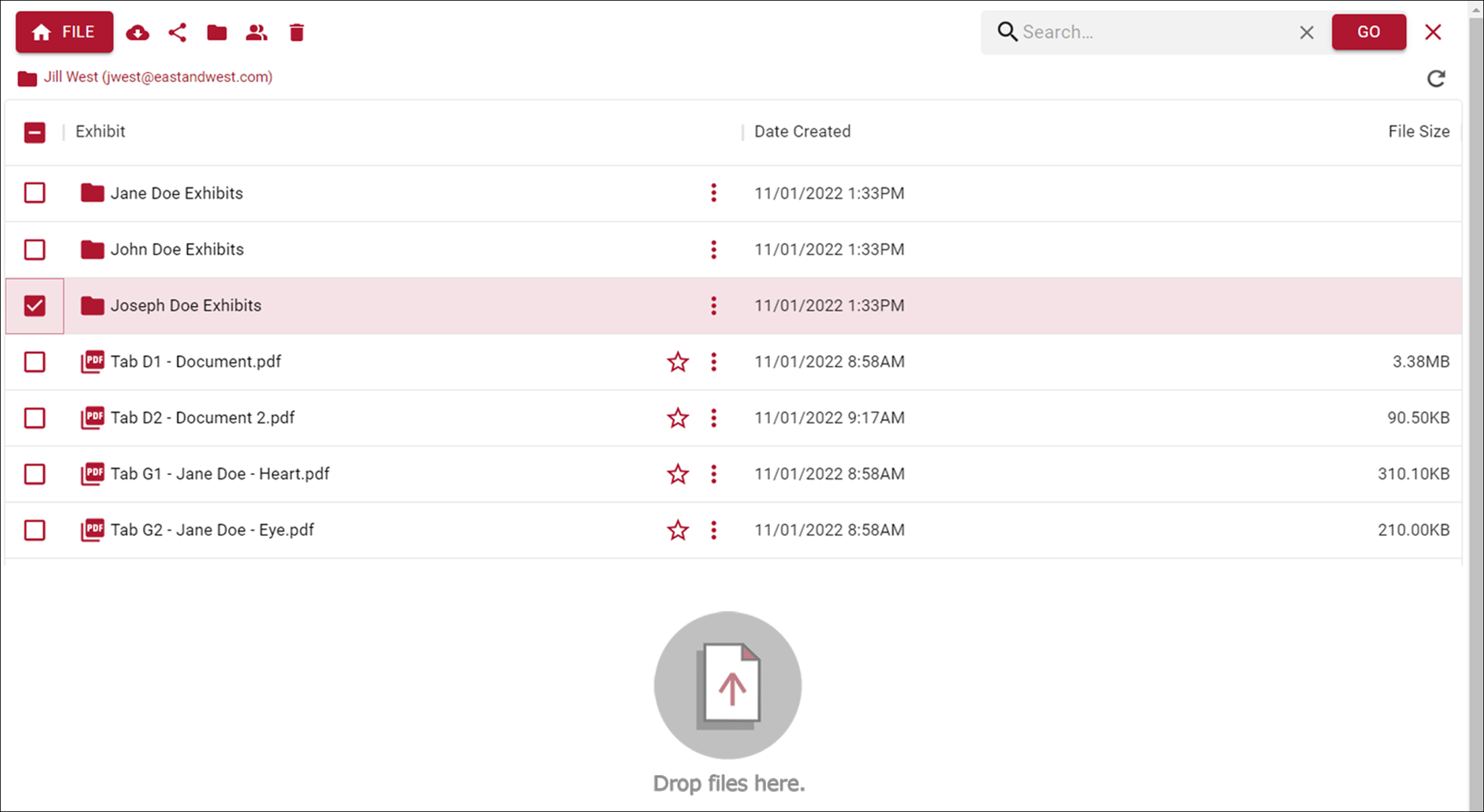 Grant Custom Folder Permissions

Preview an Exhibit Before Launching in Live Event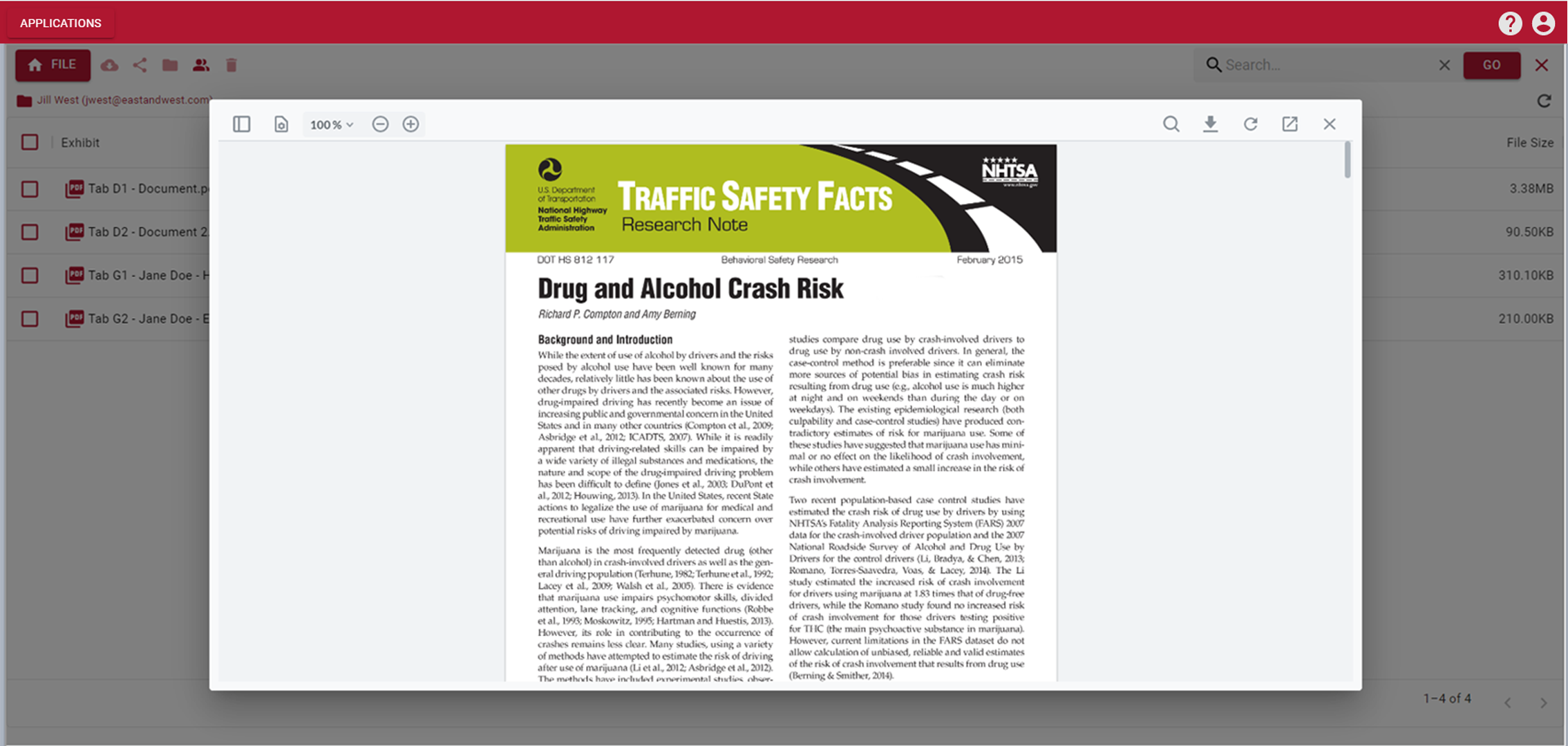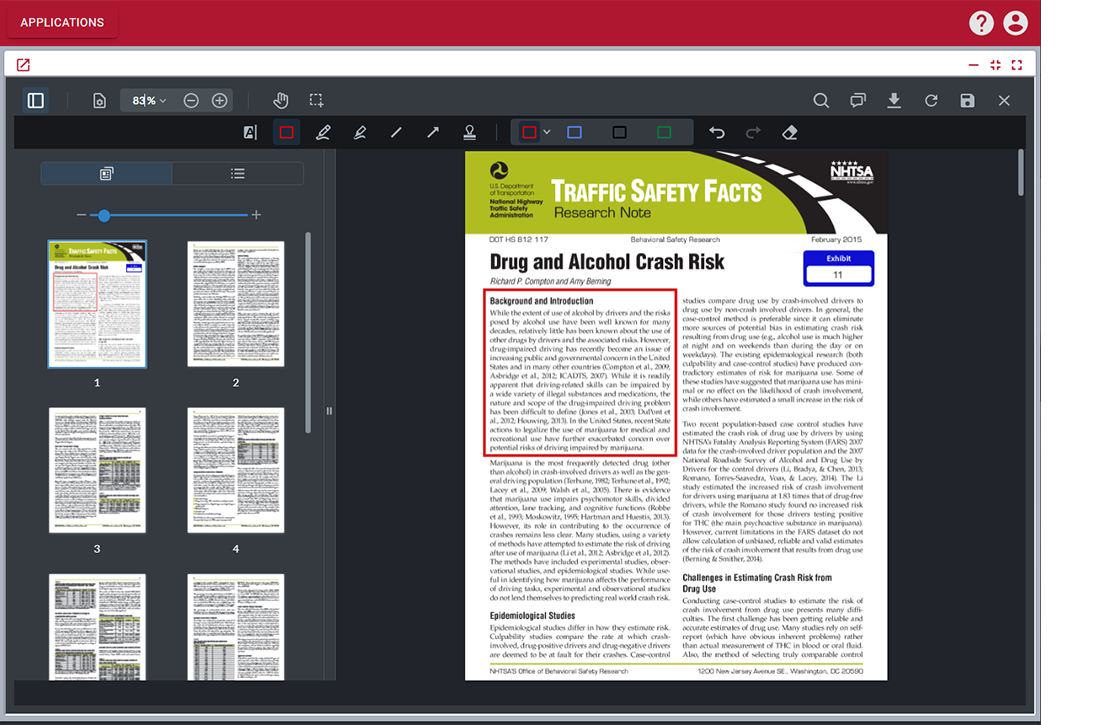 Exhibit Presentation
HusebyConnect allows you to conduct your next deposition electronically - instead of hauling boxes of paper documents - including all previously marked exhibits in your case. Exhibits can be presented, annotated, stamped confidential, and marked with a custom exhibit sticker – all digitally. Once saved, exhibits will be sent directly to the Final Exhibits folder, for immediate access by reporter and participants.
How it Works
New documents to be marked as exhibits can be pre-uploaded in your Manage Exhibits Module and accessed from the live event.
Exhibits can be uploaded from your local computer anytime before or during an event.
Previously marked exhibits are available in the Final Exhibits Folder to open in the event or following, for reference anytime.
Present an exhibit simply by clicking the Quick Launch icon.
Robust annotation tools allow the presenter to add and edit annotations directly on the exhibit.
Features
The only tool that truly maintains the same process as paper exhibits in a virtual space.
Minimize or eliminate paper at depositions, with digital access to both newly presented and previously marked exhibits.
Can be used locally or across the world.
Security is essential. All data is managed, stored, and replicated in real-time at one of the most secure, HIPAA-compliant, data centers in the world. All data is 256-bit encrypted in transit.
Easy to use. Schedule a demo today (button at top of page) to see just how easy and intuitive the tool is to use.
HusebyConnect Client Portal
Counsel has access to a secure, private portal equipped with a calendar of upcoming events, details about each event, Manage Exhibits module, and a link to join on the day of the event. After each event counsel has instant access to content created, including marked exhibits and event recordings.
How it Works
Counsel can create a HusebyConnect account by setting a private password.
Counsel is greeted with a user-friendly calendar - with multiple display options - to view and join upcoming events.
Enjoy unlimited access 24/7 to the content created during the event from any device.
Access the Manage Exhibits Module to upload and organize files pre-deposition.
Features
Access 24/7 from any device.
Join an event directly from your personal calendar. Add event details directly into Outlook.
Secure repository to access final work product anywhere, anytime.
Immediate access. Access final exhibits as they are marked into record.
Recordings are interactive and include a player to view the recording inside the portal.
Remote Support Team
Live support is the cornerstone of a successful remote deposition experience, and our remote deposition team is ready to assist throughout your event to ensure you have a smooth and positive experience.
Your Event Kick-off Host
A Huseby Kickoff Host is dedicated to ensuring all parties are seamlessly connected and all attendees' audio and video are working properly so your event starts flawlessly, and on-time. Your event host:
Arrives 30 minutes in advance
Personally ensures everything is set up to your specific needs
Can also help with testing connections, any technical questions, and troubleshoot if needed
Expert Technicians On-Demand—Throughout Your Event

Once your deposition is underway, Huseby also has on-demand support from start to finish of your event. These expert technicians:
Are available to ensure your event runs smoothly
Can be reached easily by text, phone, and email
Help you with any questions related to the platform, its features, your connection, and more

All of our technicians are Huseby team members and are not outsourced to a third-party—giving you the peace-of-mind that your event has professionals with the industry knowledge and expertise you can trust.