Select a login option below
×
Easily Create and Edit Video Clips

Huseby's video software lets you easily create clips of your video-to-transcript synchronization, for playback at trial.
With clips, you can:

Ensure that tone, inflection, and mannerisms are conveyed to the jury.
Challenge credibility or impeach a witness where testimony is inconsistent.
Memorialize your client's story through compelling video, for use in settlement negotiations, opening and closing statements, and trial testimony.
Learn how to create clips in a few easy steps:


Create a Video Clip
Click the HI-LITE button.
Grab-n-drag with your mouse to select a section of transcript text.
Click the CLIP button to create your video clip.
Your video clip is saved within your CLIPS library.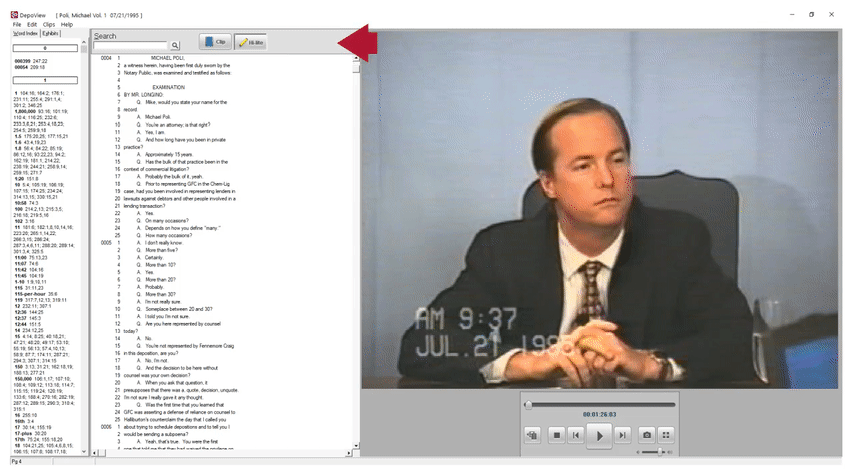 Clips Library and Editing

Select CLIPS to view your clips library.
Click to select one or more clips.
Click EDIT to make adjustments to your clip.

Exporting Clips

Select one or more clips in your CLIPS library.
Click the EXPORT button.
Choose where to export: File Folder, e-Mail Recipient, PowerPoint, or TrialDirector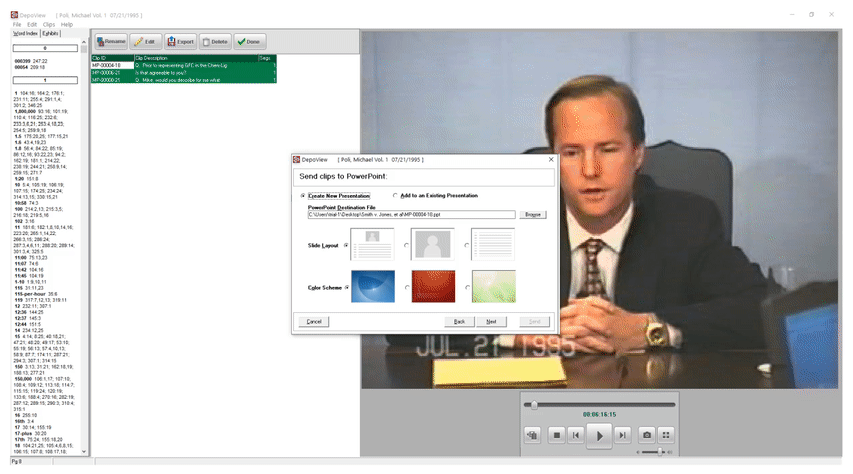 Exporting to PowerPoint

After choosing EXPORT to PowerPoint, select your preferred PowerPoint layout.
Choose the location for saving the .pptx file.
Your clips are loaded into consecutive slides in PowerPoint, ready to present!
SCHEDULE A DEMO
To learn about the benefits of
video-to-transcript synchronization
and creating video clips,
schedule a DEMO, today!