Select a login option below
×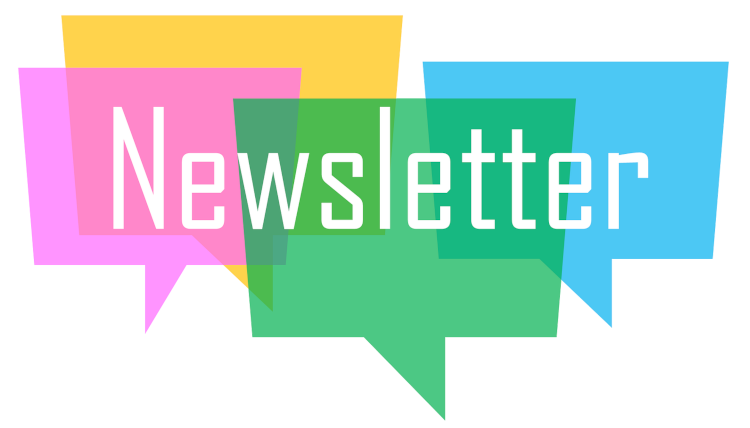 Welcome to Huseby Talk
December 2022 Newsletter Edition
Security Training
It's time for our annual security training!
Did you know that 91% of successful data breaches started with a spear phishing attack?

Did you know that 60% of spoofed email attacks do not include a malicious link or attachment?
When crafted well, many users think they are safe as long as they don't click on something in an email, but through the use of a social engineering tactic called "pretexting", cybercriminals establish trust with users by pretending to be someone they know in order to carry out a damaging attack.
These types of attacks usually do not have links or attachments and simply trick users into replying to the email and performing actions that lead to monetary or data loss for an organization.
Do you know what to do when you receive a suspicious email?
Be on the lookout for our annual security training program coming in January.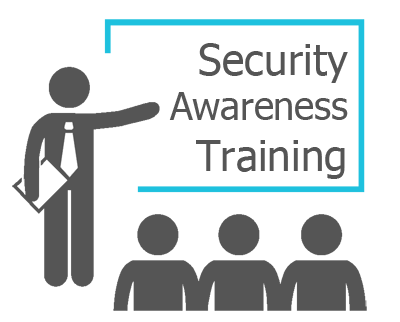 Take The Password Test

How weak is your password? 81% of hacking-related breaches used either stolen and/or weak passwords. Click below to check the strength of a password.
Introducing Andrea!
What's new in the Salesforce ERP
As we enter 2023, one of the biggest focuses in Q1 will be on the new ERP, our move from RB9 to Salesforce. Moving to a new system is no small task and there has already been A LOT of work throughout Huseby put into planning and preparing for the new system. Glenn and our Salesforce developers have worked very closely with thought leaders and managers from each department this past year to understand how we work, where our process challenges are and ways we can improve those processes in the new system to work smarter and more efficiently.
The next step in pulling all of the pieces together is to bring on board a Business Analyst. The Business Analyst has an in-depth knowledge of the business, a history of implementing new ERP systems and can work hand-in-hand with each functional team, the development team and Project Manager (Glenn) to pull all of the great information from each of the teams together and create a plan for design, testing and implementation.
Meet Andrea Lightburn!


A note from Andrea...
Working in the court reporting industry for the past 30 years afforded me the opportunity to learned more and more each year. . However, what comes to mind first and foremost is change is always constant.
My first job was with a small reporting agency in Manhattan, N.Y. Not dating myself but, PCs, Laptops, and double monitors were non-existent. The scopist and reporters came into the office daily to either provide the notes to in the inhouse note reader or transfer their job for the day on the office computer.
As I reflect over the years, I often ask myself, "How did we do it limited technological devices?" Today, I find it almost impossible to work without a laptop and two monitors; what I consider minimum requirements for working. Over the three decades, my experience as the Manager of Production to Vice President of Operations in the world of Court Reporting forced me to change the way I work as well as the need to embrace the changes in technology. My focus is on business process or as I like to refer to it as Business Rules, process design and documentation. I have a wide knowledge and experience with system implementations from the Calendar Book to RB7, RB8 to proprietary ERP Systems.
I look forward to sharing both my knowledge and experiences that will help translate the business rules and processes into requirements that can be used in the Huseby Salesforce System I'm excited to be a part of the Huseby team and I also look forward to meeting and working with everyone. I trust that working together we will embrace the only constant in life, "Change."



2023 Huseby Team Survey
We want to hear from you!
Each year we conduct the Huseby Team Survey. One of the pillars of our Vision statement is to provide our team members with rewarding careers. Your input and feedback are very valuable in meeting that standard. The survey is 25 questions and should take less than 5 minutes to complete.
The survey will be emailed this week from bradwickard@feedback.huseby.com via surveymonkey.com
Below is an example of the survey email. Please take 5 minutes to complete the team survey. Thank you!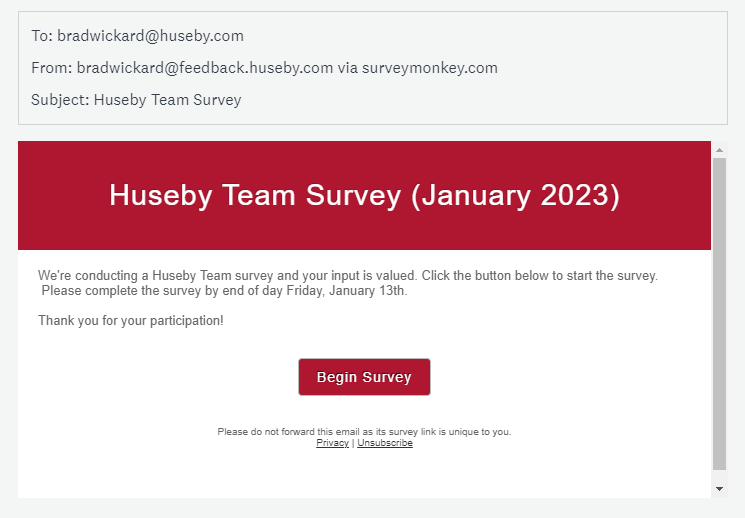 War Eagle!

It's official, Connor is heading to the Plains!
It's OFFICIAL: we have an Auburn Tiger. War Eagle! David Lew's son Connor officially signed his letter of intent to play football at Auburn University on National Signing Day. Way to go Connor and David!
AND he signed with a Huseby pen! 😊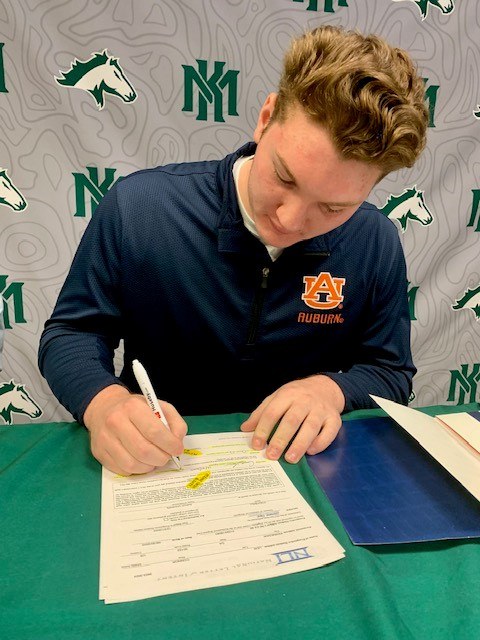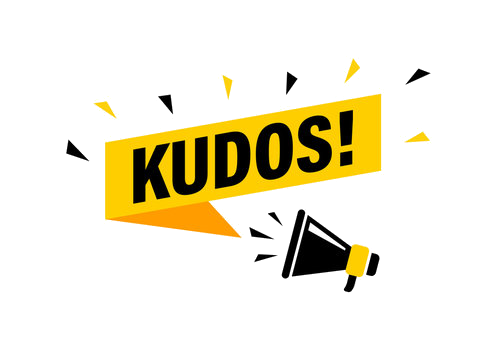 Ana Carroll put in a Kudo's for Support, AR, Billing and Calendar

Support - The entire team has done an amazing job at making sure my client's needs are being met. They worked with the digital department to work through a request for a rough and expedite without the client feeling the "first time" we've done this feeling.
AR - Judy has been so patient with my clients as they have had some struggles with the YayPay platform not being up to date on invoices and being able to pay in real time. Judy had spoken with quite a few of my clients and continues to serve them with care and understanding. I know it has not been easy as some of them are very frustrated at times.
Billing - helped me with an estimate in a state I was not familiar with. Kim also stepped in to help me with an appeal that the client came back with tons of billing questions for.
Calendar -
Bejaia has been so communicative regarding a location that a client wanted but we found out that it was sold to US Legal. She is working to make their request happen in a different way and has been a pleasure to work with.
The calendar team worked to cover a last min add on that came in after hours and was set to start the next day at 7am! The job was covered and the client was happy. I really appreciate it as I did not see the email until the next morning, so it meant so much to me that they were able to just get it done and I had nothing to worry about.
Alexandra, Robin Nicol, Cindy, billing and Kyle Hill - helped answer all my questions about a client's request in CA for a hearing. I was struggling and each one of them came through in a different way to assist me and I am so thankful. Alex went above and beyond to get it covered with a reporter that would still allow for a great GP.
Rex - I have sent him many requests for people to be added into our system so I can start prospecting them in Salesforce, and he does not complain, just gets them in.
Robin Barca put in a Kudo's for Amanda Kirchubel
SHOUT OUT TO Amanda K in Scheduling on the WEST!! She always has a positive outlook and attitude with our clients! Her communication skills are stellar! Her attention to detail is above and beyond! I Appreciate her sense of urgency and ability to handle individual client needs…she really understands the business and what it takes to get scheduling done right! Above all else she truly CARES!! I can't thank her enough for her dedication to our TEAM!
Kyle Barry put in a Kudo's for Sean Phillips and Julianna Buser
Well done Team….see client response below.

Aww, that's so nice! I heard that they went well, so you will be used in the future. We have a lot more depositions coming up. Thank you for helping us in a short time. Amazing customer service. J
Amanda N. Foley

Legal Administrative Assistant

STINSON LLP

Dave Wiseman put in a Kudo's for Emily Grottle

Emily has been working her tail off – essentially doing two jobs. We have been slammed and down a person, so she has really stepped up!
Linda Harper put in a Kudo's for Jorissa Perez and Theresa Hughes

Kudos to Jorissa Perez in GA and Theresa Hughes in Billing - I took a call from a pro se client for a remote hearing this morning - we got it entered, paid for and covered - client was THRILLED! Way to hustle

Cindy Lengkong put in a Kudo's for Amanda Kirchubel and Aleata Rodriguez

A HUGE shout out to Amanda Kirchubel and Aleata Rodriguez today -- (well everyday) for jumping on requests for 2 different firm's last minute reporter requests. Aleata Rodriguez for getting a replacement reporter that had connection issues, within minutes! One was from a firm I thought was lost but clearly she feels the same way I do...You are truly THE BEST:
From: Kim Hernandez <khernandez@alderlaw.com>
Subject: RE: URGENT - Contreras, Rosa Imelda v. City of Los Angeles, et al. - Matter ID 2202-3972
You guys are the best

Sincerely,

Kim Hernandez

Litigation Assistant
AlderLaw PC

Jeff Sanders put in a Kudo's for Valerie Vanderbilt
From: Lynette Reynolds
Subject: Kudos for Valerie
Amanda, today I was speaking to court reporter Lisa Selby-Brood and she had high praises for Valerie and wanted me to pass them along to you. She said she's a true professional, always very responsive to her, and she loves working with her. She thinks Valerie's the best person in Support – next to you! She wanted me to be sure to let you know!

Way to go Valerie!

David Lew put in a Kudo's for Dixie Lawson
Your hard work is always noticed and appreciated, Dixie!
From: Jo Kress
Just wanted you to know that Tom and I have been extremely pleased with the service from Huseby. Dixie has always been more than willing to work with me for any need I have in scheduling , and I cannot tell you how much I appreciate this. Your company makes my job much easier.
Jo Kress

Law Office of Thomas G. Buchanan

Lauren Ladenheim put in a Kudo's for Kristian Hilbert and James Gabriel
Huge kudos to Kristian Hilbert and James Gabriel for getting this fire drill job covered. We did not get this request until 8:00 pm the night prior, and they worked with me until close to midnight to secure a live videographer and remote reporter for the next day. While it was not "exactly" what they wanted, they told me that they loved us "appropriately" and could not have been more grateful for saving the day. This resulted in looking very good in front of some great firms on the other side and earning more days of depos in this case. WTG team!
Robin Barca put in a Kudo's for Rudy Figueroa
Always there for me with a great attitude to help with transcript expedites for my clients!! I Appreciate his willingness to contact the reporters and dedication to follow up so I can keep my clients updated with status ETA's. He always picks up the phone on Urgent Requests—Just an AMAZING ALL AROUND GUY!!