Select a login option below
×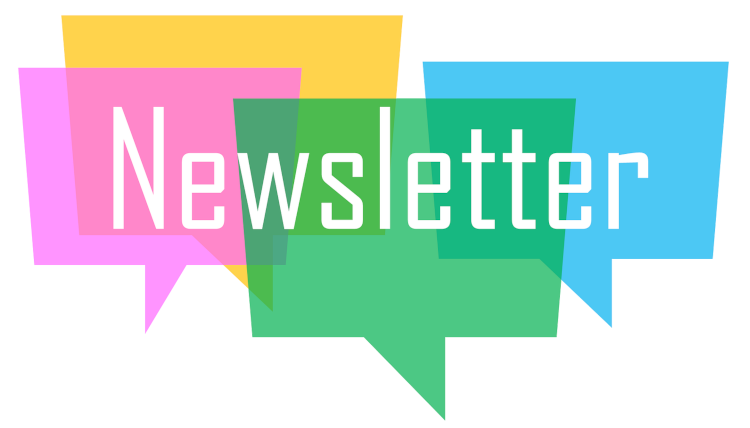 Welcome to Huseby Talk
May 2023 Newsletter Edition
Updated phased move from RB9 to Salesforce ERP
The Mid-Atlantic LAT went live to Salesforce on May 22nd. We extended the schedule to allow us to address urgent issues and include high-value enhancements, and we continue to make those a priority.

Thank you so much to everyone who is investing so much time, expertise, and effort into transforming the new system into what it needs to be. We're constantly listening to your feedback, and it's led us to making some significant revisions in the schedule as you'll see below. This is going to give you additional time to get familiar with the system and provide guidance, and to give the development teams time to implement the most important fixes and enhancements to help make the system what we must have to continue to grow. You'll also notice that we changed the order on some of the LATs to give us time to get enhancements in place that are key to those specific LATs.
The updated rollout schedule is listed below. For all those dates we'll plan to have Scheduling begin entering new jobs around noon Eastern Time on Thursday, Production begins Friday morning, and Billing begins Friday around noon Eastern Time.

Updated Rollout Schedule:

Northeast / Central LAT – 4/15
Mid-Atlantic – 5/22
Mid-South – 6/8
Florida – 7/6
West – 7/27
West Virginia – 8/17
Prose Court Reporting – 9/7
Digital Evidence Group – 9/28
We will be using your feedback to fix system defects, improve usability and functionality in the weeks between each LAT rollout and plan to continue those enhancements for the rest of the year.
Updates to HusebyConnect

1-Click Exhibit Presentation
Creating the FileShare experience in HusebyConnect. When you think about remote depositions, there are really three ways clients prefer to present exhibits; "basic" using Zoom screen sharing and FileShare, more advanced using HusebyConnect's exhibit presentation, or utilizing an expert hotseater to help present for the client using trial technology.
Currently, for the more "basic" presentation preference we use ShareFile as the way for clients to provide courtesy copies of exhibits using Private and Public folders, while also screen sharing the exhibit in Zoom. We also use ShareFile or Box when hotseating depositions as a way to provide downloadable courtesy copies as exhibits are presented on the screen. Either of these options require all attendees of the deposition to manage two links (Zoom and ShareFile/Box), which can be even more complicated if the deposition gets rescheduled and new links need to be distributed.
The next release is now in testing and is designed to provide the same exhibit presentation experience described above within HusebyConnect (FileShare and Zoom in one platform).

We have been working closely with the hotseater team at DEG, the Remote Depo Team and sales team members to incorporate their immense client experiences into the new feature. We are looking forward to the new release very soon!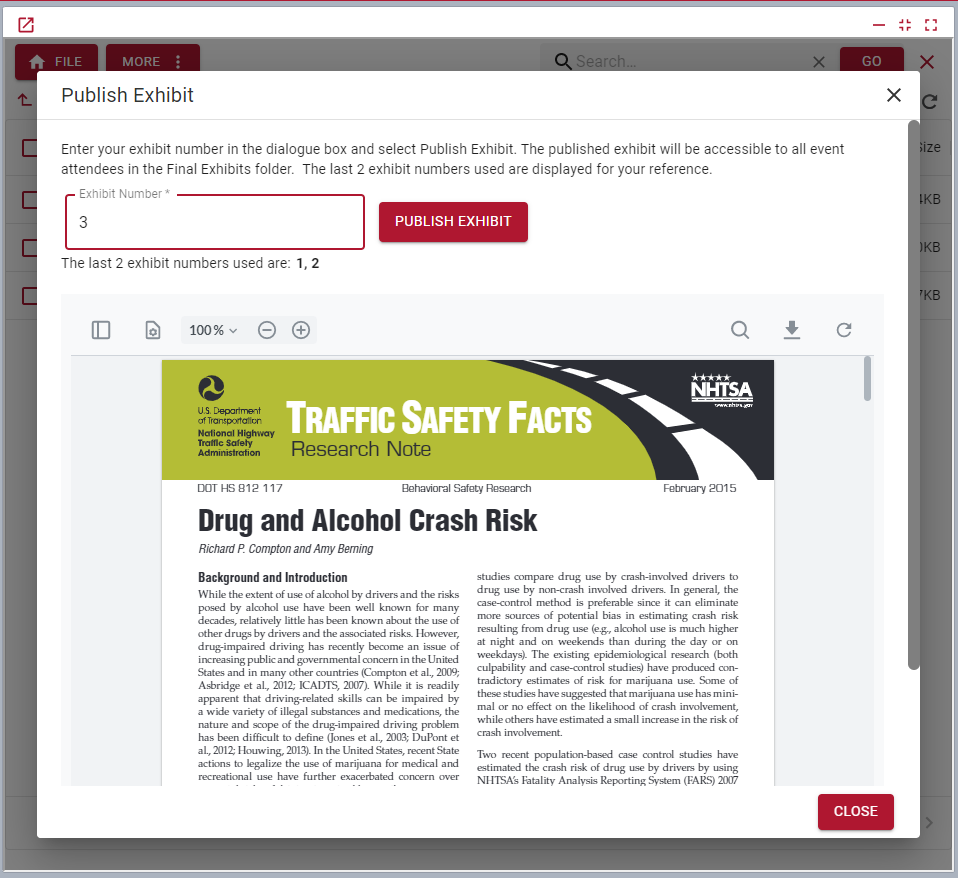 (Click Image to Enlarge)


Meet our newest sales reps!
Jenna King - Northern California - West LAT
Born and raised among a large family in the Bay Area, Jenna King has two boys with her fiancé and is a future Aunt as her younger sister has a baby on the way. Jenna is passionate about Legal services and solutions. Jenna holds a BA and BS in Economics and Business Communication. Additionally, she's set to graduate with a JD/MBA in 2026. Interestingly, her last name comes from generations of High Kings of Northern Ireland, Hill of Tara, while her other side of the family comes from Portugal. Her Grandfather was a dedicated Marine and part of The Chosin Few Reservoir. While her Grandmother was President of the local chapter, Order of the Eastern Star. Jenna learned from her family the importance of giving back to your community, culture and helping others in need.
Jenna played professional soccer and softball while attending college and even grew a cellular company that she eventually sold to Xerox. Her career has been dedicated to the Legal field, and she enjoys giving back to the community.
At home, she has three dogs and spends time at her studio off Ocean Beach in San Francisco and her home in Discovery Bay.
In her free time, Jenna loves attending sporting games, fishing, scuba diving, poker, hiking, biking, surfing, coaching soccer and traveling. Her favorite places include Zion, Utah and Lahaina, Maui.
She makes sure to schedule her work hours efficiently, so she has enough time for her hobbies and passions outside of work. She believes that it's important to maintain a positive healthy work-life balance, and always strives to make time for her family and friends. Additionally, Jenna is open to delegating tasks when necessary, allowing her to focus on what's most important in both her personal and professional life.
Megan Linton - Connecticut - Northeast/Central LAT
I live in West Simsbury, CT.
I am married with 2 kids – Sam 11, Anna 9 and Golden Retriever, Riley
I worked in sales for 20 years. 15 years in Medical sales, 5 years in legal sales with US Legal Support.
My hobbies are running, hiking, skiing and reading
Top Performing Sales Reps
Here are the top performing reps across the country for March.

| | |
| --- | --- |
| Sales Rep | % of Goal |
| Mark Poelzer | 195% |
| Julie Long | 183% |
| Robin Barca | 154% |
| Lauren Ladenheim | 138% |
| Mauricio Haro | 132% |
| Jimmy Singh | 127% |
| Donna Hoffman | 117% |
| Jessica Hutto | 111% |
| Liza Penner | 108% |
| Lynette Reynolds | 106% |
| David Lew | 104% |
$200k Club
Here are the reps across the country that topped $200k in Gross Profit.

| | |
| --- | --- |
| Sales Rep | Gross Profit ($) |
| | $ |
$100k Club
Here are the reps across the country that topped $100k in Gross Profit.

| | |
| --- | --- |
| Sales Rep | Gross Profit ($) |
| Jessica Hutto | $172,755 |
| Lauren Ladenheim | $148,053 |
| Robin Barca | $135,270 |
| Anastacia Carroll | $104,601 |

What's New in HR/Admin


Welcome our new team members to Huseby!

Megan Eissler (Sales)
Lori Noonan (Sales)
Mariah North (Digital)
Brandon Roberts (Digital)
Sarah McCooey (Sales)
___________________
Below are team members no longer with Huseby. We wish them the best in their new endeavors.
Hannah Bieler (Digital)
Kaylee Hodge (Production)
What's New in Operations

Production News
Chris Cook promoted to 2nd Shift Manger. Congratulations Chris!
3rd shift work schedule is changing to help us address the volume we receive over the weekend and the first couple days of the week. The new work schedule will be Sunday - Wednesday Schedule 7:30 PM to 6 AM.
LAT News
National -
Lacey James has taken over responsibilities of the Transcription Inbox and scheduling
Ankit Modi started 5/8/23 training to help with admin duties in production
A new Production person is starting on 5/23
Training a few people (Kesha Osborne, Marcia Knocks and Elezibeth Moore)
Northeast/Central -
Has been the front runners on the Salesforce integration and all systems appear to be go
Mid-Atlantic -
Started moving jobs to Salesforce on 5/22/23
Mid-South -
New person for Mid-South LAT in Atlanta Office starts 5/22/23
LAT is a little behind, but only by a dozen or so jobs
West -
Lost Portia Miller this month
Chris Cook promoted to 2nd Shift Manager.
The team is working on keeping the jobs flowing as we look to back fill some of the missing productivity
Florida -
Lost Kaylee Hodge
Doing a great job controlling the work volume with assistance from the National LAT

What's New in Digital/Remote Depositions
Let's all give a warm welcome Delina Nguyen & Sharon Jennings. We have complete confidence that they will excel as our newest Digital Reporters!
3 Big Takeaways in April:
Successfully covered 117 jobs
No client complaints
10 last-minute jobs were covered due to an add-on or independent contractor cancellation
What's Next?
The Digital & Remote Depositions team are looking for 2 more Digital Reporters in both Jacksonville & Chicago.
Expansion into Georgia & Tennessee
Shout Out's:
John Danne- providing a stream of quality applicants to support our ongoing expansion efforts. Without John, we wouldn't be able to grow at the rate that we have been able to.
Jessica Urrutia- Stepping up to the plate and training all the new hires that are coming in over the next couple of months. Jessica has done an incredible job on welcoming our new teammates and getting them ready and prepared for what's to come.
The Last Generation of the Utila Full Moon: Memories of Paradise


Newly Published Book by Our Very Own Randy Cardona
Congrats Randy on your new book!
The story of children growing up in paradise on a small island in the Caribbean Sea. Life was simple and was lived as one with nature with no interference from modern technology which was non-existent. It was a time of innocense and the clear/warm Carribean Sea surrounded us.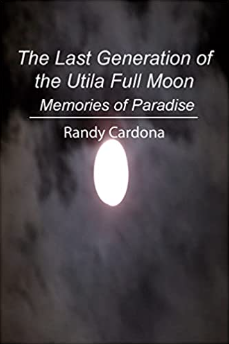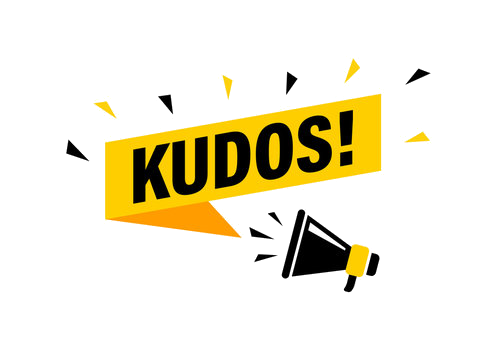 Lauren Ladenheim put in a Kudos for Sarah Jarvis

Huge Kudos for Sarah Jarvis. She has been an absolute life saver lately. Her ability to problem solve and think outside the box, response times and customer service has been top notch. I am so grateful to have her on my team and we are extremely lucky to have her at Huseby.
Aleata Rodriguez put in a Kudos for Jason Verdin

Thank you again Jason for all your hard work and assistance these last couple of weeks. You have been pulling more than your weight, not just covering your territory but you have been indispensable for CA data entry. Your hard work has not gone unnoticed, and I just wanted to tell you that I appreciate it beyond measure.


Scott Klein put in a Kudos for Jorissa Perez
Hey Jorissa – see below. I'm confident we ALL feel the same way – but always nice to hear it from 'the outside world' 😉
I also had a nice follow up conversation with Michael thanking him for taking the time to send!
Go Jorissa!
From: Michael Tokos
Subject: Jorissa Perez
Good afternoon Mr. Klein,
My name is Michael Tokos and I am a paralegal here at Hall Booth Smith for Dale Slemons, Ann Bishop and Lissa Klein. I specifically asked for the supervisor of Jorissa Perez so that I could express how grateful all of us here at HBS are for her and her incredible professionalism.

Jorissa has been nothing short of amazing. She is incredibly kind, responsive, and accurate with everything we've asked of her. We specifically use her for our biggest clients because we know when we do, we can always count on her to be attentive and precise. She clearly takes pride in representing Huseby and sets the precedent for how others should carry themselves in a professional setting.

I won't take up anymore of your time, but simply wanted to give credit where credit is due and to express our gratitude. We want to say thank you for Jorissa, your team, and for all that Huseby has done for us.
Here's to many more years together.
Michael Tokos
Paralegal
Hall Booth Smith, P.C.
Jessica Hutto put in a Kudos for Team Huseby
From: Kyle Wallace
Subject: Re: LOOKING FOR TRANSCRIPT - Re: EXHIBIT FOR JOB 451648 -- FW: Defendants' Exhibit to Esther Cuevas Depo - THANK YOU!
Thank you so much Jessica. Really appreciate you taking care of this. This is precisely why I am loyal to Huesby and will continue to be.
Kyle G.A. Wallace
Partner/Attorney
Shiver Hamilton Campbell, LLC

Rexx Alistairre put in a Kudos for Bejaia Dorange
This was a job that Bejaia went above and beyond to ensure coverage. I was speaking to Jenny about the issues and Bejaia was able to take care of everything.
She is a star player on the Florida LAT scheduling team!!! Learning and stepping up as needed!

From: Jenny Hernandez
Subject: RE: *FINAL* Confirmation of Scheduling - Date: 5/15/2023, Job #451429 B. Angel Borden
THANK YOU BOTH SO MUCH!
Thank you.
Kind regards,
Jennifer Hernandez
Certified Paralegal
Dave Wiseman put in a Kudos for Laken Keeney, Jennifer Ruszala and Emily Grottle
Huge shoutout to Laken Keeney. She has managed two related complex cases (regarding Meta) with multiple parties, unique requirements, with as many as 6 depositions a day. Would also like to thank Jennifer Ruszala and Emily Grottle for stepping to help on the two days Laken was out. Wow, we had no idea what you were dealing with until we were in it.
Jared Chrisman put in a Kudos for Team Huseby
From: Ryan Roehr <rroehr@munckwilson.com>
Jared, thanks for reaching out to remind me about all of the extra services that Huseby provides. I'll be sure to reach out whenever we need trial or hearing presentations prepared. I've always had a flawless experience with Huseby's deposition coverage. Huseby is always my go-to provider for any remote deposition. We've used Huseby's remote service multiple times. Everyone was great to work with. I really like that your team always assigns a technical support person that is always easy to communicate with prior to and during the deposition in case any of the technology needs to be adjusted. One time opposing counsel could not figure out how to change his name on the screen before the start of the deposition and your team was able to adjust how his name appeared on the screen during the deposition within a few seconds. I also like how easy it is to schedule online with Huseby. It is always as efficient as possible.

Looking forward to working with you and your team more in the future.
Thank you,
Ryan Roehr
Paralegal
Munck Wilson Mandala
Erica Harris put in a Kudos for Team Huseby

From: Cindy Layne
Subject: RE: Hello! Checking in! Roy Allen Gregg v. Monro, Inc.
I have not heard anything negative from Kim, so that is definitely a win.
I do want to let you all know that you are the best service I have ever worked with. Your response time was the best ever. The changes that were made last minute and the requests that the attorneys had were handled professionally and quickly. You all definitely are top-notch. Thank you so much for all the help we received. I am truly impressed.
Cindy
Cindy Layne
Legal Assistant
SEYFERTH BLUMENTHAL & HARRIS LLC


Lauren Ladenheim put in a Kudos for Kristian Hilbert and Alex Gomez

Huge KUDOS to Kristian and Alex (and Michelle, who was on standby if I needed her). Zaytoun called me stressing out because they are in the middle of trial and the judge pulled the wool out from under them and shortened trial-which made their expert witness not be able to make it to NC from FL in time to testify. I reached out for a FL reporter and our team jumped on this email at 8:30 pm and had this covered and Zoom link sent in a matter of 10 minutes. Because of this quick response, this witness will be able to testify from FL tomorrow morning and the client is extremely relieved.

Lauren Ladenheim put in a Kudos for Jason Verdin

Big KUDOS to Jason. He worked with me all afternoon to get a job covered for today. This assistant got her days mixed up when scheduling this originally, and we were able to swoop in and save her from being in hot water with her boss. Super grateful for his persistence and patience with me and my client 😊.
From: Mara Davis
Subject: RE: Final Confirmation of Scheduling - Date: 5/4/2023, Job #452245 Aaron Caughey, MD
I was thinking last night, only Huseby would go to the lengths you guys did yesterday to make sure your client was covered.
Thank you.
Mara Davis
Legal Assistant | HPB
Lauren Ladenheim put in a Kudos for Aleata Rodriguez
Kudos for Aleata. She had my client scheduled and confirmed within 10 minutes of this very last minute "Friday fire". They are sending a bunch of depos at the end of the month, so I am super grateful for her for being AWESOME!
Stephani Burger put in a Kudos for Lacey James
Big Kudos to Lacey James for turning around some immediate transcriptions - and one was for a Tobacco client on trial that needed it in like 5 mins;) Thanks, Lacey!
Stephani Burger put in a Kudos for Chris Cook
More Kudos for Chris Cook - he is OWNING his new 2nd shift position like a BOSS! Thank you so much for all your diligence on the Tobacco jobs! You're exquisite:)