Select a login option below
×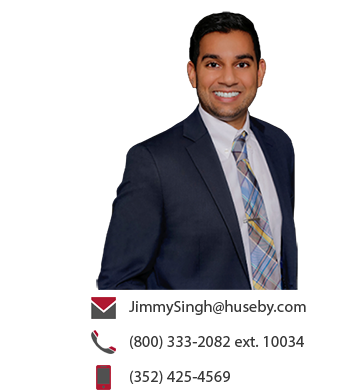 With a deep-rooted passion for law, Jimmy Singh is more than familiar with the challenges of litigation. Jimmy is highly dedicated to his clients and analyzes each matter to develop a tailored litigation support experience with a goal of achieving a positive outcome. He serves as a main point of contact to his clients by overseeing cases from inception to trial and provides exemplary litigation support services.
In addition to having a background in legal studies, Jimmy has over 8 years of experience in the court reporting industry and has first-hand experience with working amongst litigators. He specializes in managing multi-party, complex case litigation and has worked on numerous case-types that include personal injury, workers' compensation, construction defect, intellectual property matters, accounting fraud, legal and medical malpractice, and product liability. With his knowledge of the litigation process, you can count on Jimmy for exceptional deposition support paired with quality service, anywhere in the world.
Jimmy's Message to You
Welcome to the Huseby family! My goal is to make your job easier and make you look good. As we continue to develop our professional relationship, I'd like to get to know a little more about you. Complete your client relationship card and email it back to me.


Trusted Experience.
Huseby has grown into one of the most successful litigation support service providers in the country. The Huseby family is deep rooted in the legal community with three generations of court reporting professionals dating back to 1928. Scott Huseby Sr., Chairman, successfully combines his expertise and family legacy with the personalized local service feel Huseby brings to all its clients.
Single Source Provider.
Huseby provides the resources, international reach, cutting-edge products, state-of-the-art technological solutions and extensive support services for your most complex litigation. In addition, we have the ability to be nimble which allows us to execute better than anyone.
"…To say Huseby is a crucial member of our litigation team would be an understatement." - Litigation Paralegal
Robust Security.
Huseby has invested significant resources into its information technology and internal workflow, designed to offer clients unparalleled security and quality.
While other national court reporting firms employ a very decentralized business model with Production and IT infrastructure scattered in many places, we centralize core operations to provide the ability for strong oversight and managed security controls.
Quality Management.
The quality of products and services you are providing are important to you - and we understand that. Our Quality Assurance program is part of our corporate DNA. It informs each step of each process from the client relationship team to the back office. It is in place from beginning to end.
We have a culture that believes in quality and we empower our people to be the best at what they do. Our product is of the highest quality because we have transparency into our process and train our people to serve our clients and make good decisions. To learn more about our quality assurance process, click here.
Leading Edge Technology.
HusebyConnect is a proprietary application that provides clients a complete deposition experience in a virtual environment, allowing counsel to attend a deposition anywhere in the world from the comfort of their office. Through meticulous software development we're able to provide our clients with all the 'bells and whistles'.
"Huseby provided excellent training for our attorneys and they had one of their staff members present when needed to make sure everything went smoothly. The technology works extremely well, and Huseby's customer service has been top notch. Huseby has been a great partner in helping our firm implement and use this new technology." - Managing Partner, Hedrick Gardner Kincheloe & Garofalo LLP
Reliable deposition solutions are important to you, now more than ever, and we are working around the clock to provide you with the deposition tools you need to keep your cases moving.
Contact us today! (800) – 333 -2082 or calendar@huseby.com.

.