Select a login option below
×
IF YOU HAVE ANY ISSUES SUBMITTING, OR YOU DO NOT HEAR FROM OUR TEAM WITHIN 24 HOURS,
PLEASE RESUBMIT, OR CALL OUR SUPPORT LINE ANYTIME FOR ASSISTANCE AT (800) 333-2082. THANK YOU.
Five Day Transcription Turnaround Guaranteed
**Thanks for choosing Huseby for your transcription needs. After transcription is complete, we will send you the transcript(s) electronically for your review. Any information that was not provided on this request form, such as speaker names, dates, etc. can be added. Once we receive confirmation that the transcript can be finalized, we will print any requested hard copies. If we do not receive confirmation after 5 business days, the transcript will be finalized. Any changes requested after that will incur additional fees.
Bookmark

this page for quick access!
~ Scroll down below form for steps. ~


Bookmark

this page for quick access!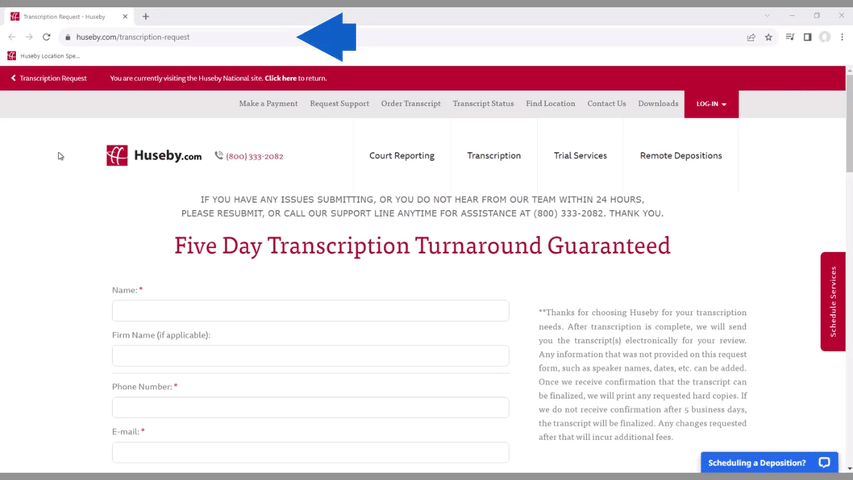 5 business days begins the next business day after the file is received. In the event a file fails to meet the quality guarantee, the Customer shall provide written notice within five business days of transcript delivery with specific errors clearly identified. Unless the failure is caused by the File Criteria's not being met, Huseby will use best efforts to deliver the corrected file within one business day, but no later than five business days. If Huseby is unable to correct the file according to the quality guarantee and the failure is not caused by the File Criteria's not being met, then Huseby shall provide a credit for the Customer file that did not meet the requirements. Examples of files that do not meet the File Criteria may include, but are not limited to: files recorded in a gymnasium or large court room where individuals are not speaking into a microphone properly; professional recording equipment is not utilized; speakers who have a speech impairment, strong accent, or foreign language where a professional transcriptionist is unable to discern what is said; or speakers engage in cross-talk and are not using an independent microphone. The guarantee is defined as the threshold of an error type's being achieved. Thresholds apply to all files approximately 90 minutes in length and ordered during normal business hours. Files which are excessively long or shorter than the average will have thresholds adjusted on a proportional basis.