Select a login option below
×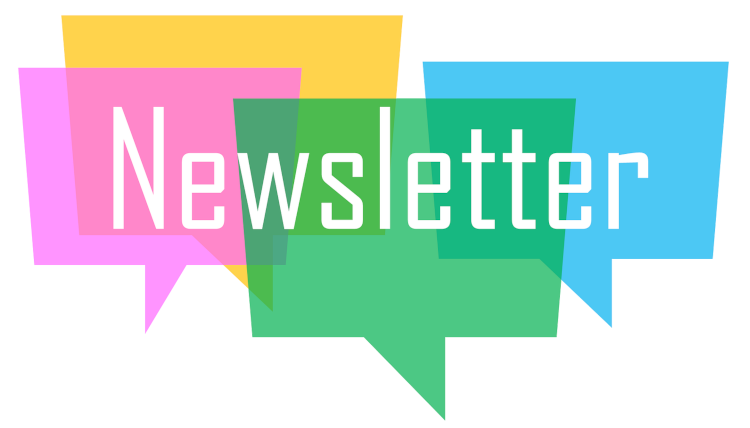 Welcome to Huseby Talk
November 2022 Newsletter Edition
Tiles, Tiles, Tiles!!!
What's new with Huseby
Connect

?

We are continuing to grow and expand the tools and capabilities in HusebyConnect 2.0, and we were excited to recently launch "tiles". Through our voice of the customer conversations about how clients like to use remote deposition applications, one of the biggest suggestions we received from clients was the ability to customize their screen experience, including the ability to work from multiple screens. We took that feedback to heart and introduced tiles. HusebyConnect is the only remote deposition application to utilize tiles - allowing clients to the flexibility to personalize their screen layout.
Key Features:

Extend Application into Separate Window - Extend a tile to a separate window to take advantage of multiple monitors. When a client clicks the extend button, the selected module (i.e. video, exhibits) is extended to a new browser tab and can be dragged to a new monitor.

Responsive Resizable Tiles - Clients have the ability to resize tiles, my moving the bar(s) between the tiles. The tiles are responsive and automatically resize to the window. As an example, when resizing the Video tile, video will resize automatically to fit the window.
Add/Remove Tiles from Screen - The "Applications" button features checkboxes to add or remove tiles from view.
Rearrange - The client has the ability to rearrange the tiles on their screen by simply dragging and dropping a tile to a different section of the screen.
Fullscreen View or Normal View - Individual tiles can be made fullscreen. This is a valuable feature when exhibits are not being presented, the client can easily make the Video tile fullscreen.

Click Below to Learn More:
Trials, Trials, Trials!!!
Check out the new Trial Page on the website.
Trials have continued to ramp up as courts continue to push through the backlog caused by the pandemic. Working closely with our team at DEG, we recently updated the trial section of our website to align with all of the robust trial capabilities DEG provides.
Special thanks to Paul, Karine and Dan at DEG for helping shape the content in each of the new sections and Jill for the new updates to the pages.
New Sections:

Legal Graphics - This section highlights our capabilities to provide advanced demonstratives for trial, including 2D graphics, 3D animations, 3D modeling and printing, custom medical illustrations, interactive timelines, and so much more!

Trial Technology - This section highlights our capabilities for trial, including pre-trial preparation, equipment management and the extensive courtroom and trial presentation support.
Client Success Stories - We are excited to continue to add to this section over time, with stories about how DEG has assisted clients in successful trial outcomes. In the first story, we highlighted how DEG helped Autel Robotics using 3D animation to depict unique characteristics of the Autel Rotary Wing Airecraft in a patent infringement case.
Representative Clients - This section highlights the many firms and cases DEG has represented over the years. The extensive list of high profile cases is a tremendous representation of the value DEG brings in high stakes litigation.
Latest News - This section highlights the latest news, cases and outcomes from recent trials.

Click Below to Learn More: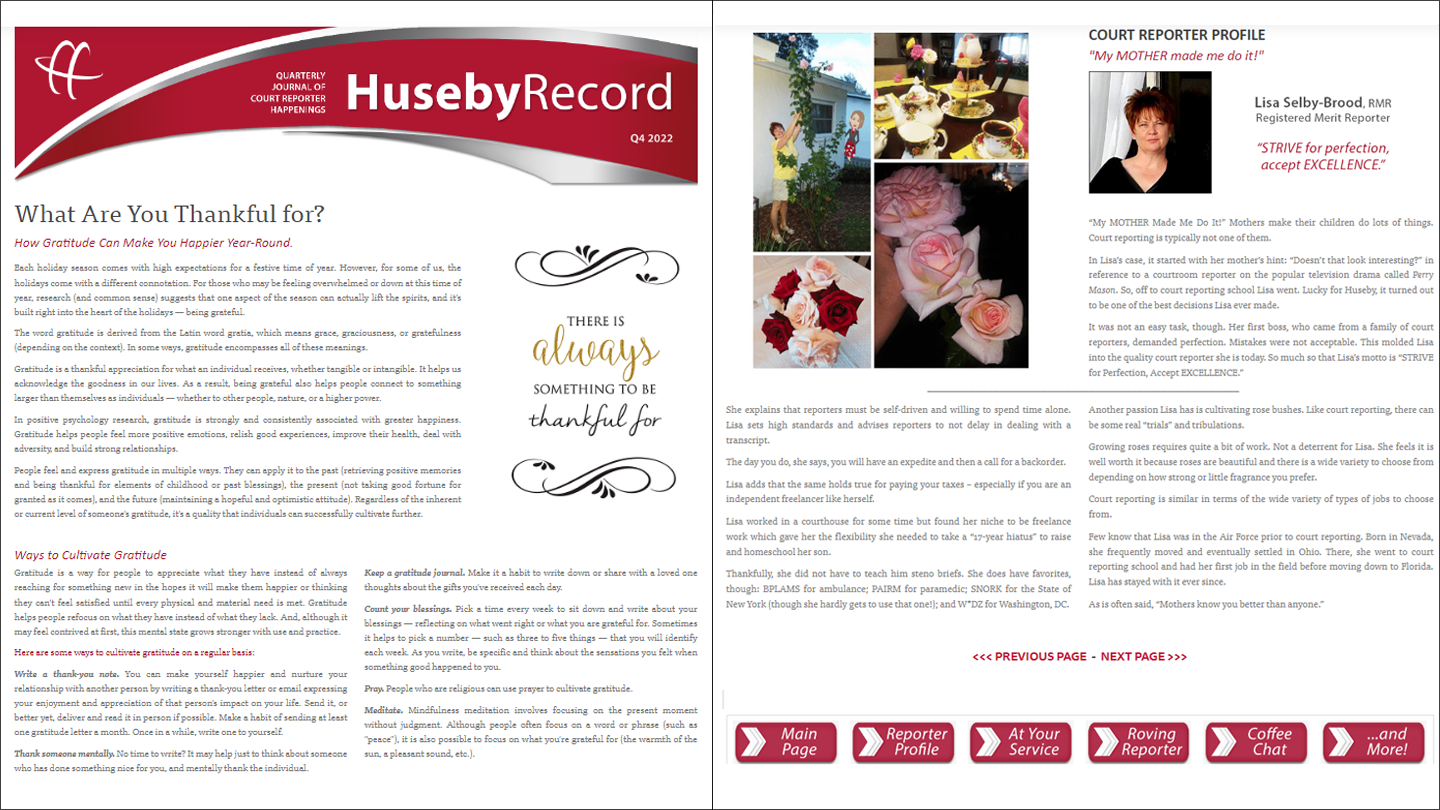 HusebyRecord - Q4 2022
Check out the recent reporter quarterly newsletter!
The HusebyRecord is a new quarterly newsletter for court reporters highlighting news in the industry, key events, opportunities to connect with team members at Huseby, and so much more!

Below is a link to the HusebyRecord.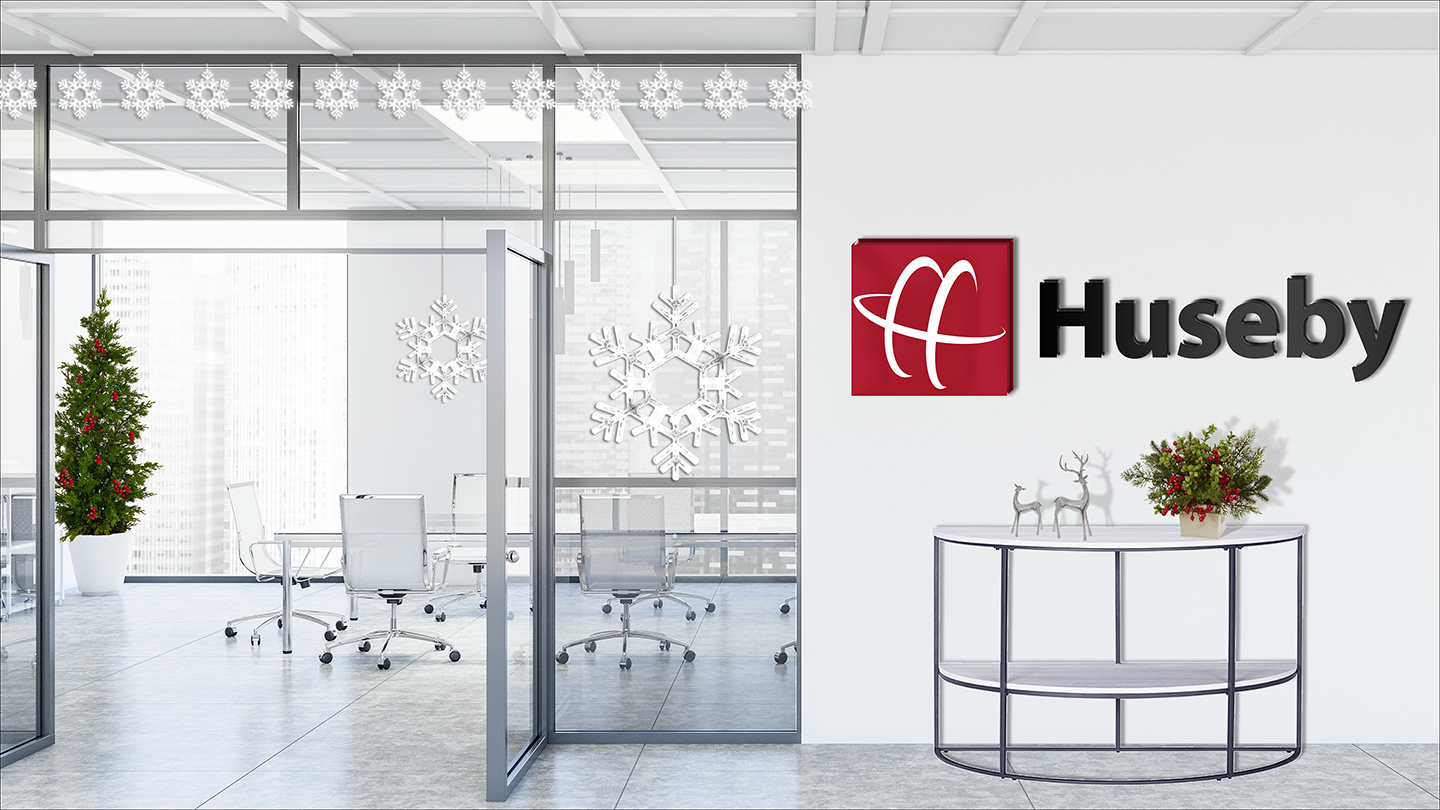 Update Your Virtual Background
Check out the new Huseby seasonal backgrounds!
Huseby has a webpage for you to customize your Zoom or RingCentral background when you are sharing video and we are excited to add in seasonal backgrounds for you to choose from! If you have any ideas for backgrounds you would like to have available, send a message to Jill.
Check out the backgrounds below: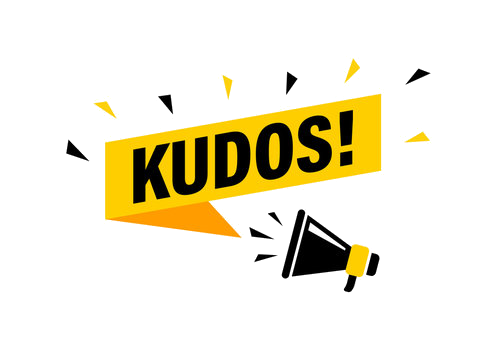 Paul Hugo put in a Kudo's for Mitch Mahon
From: Stef Munoz

Hi there,
I just wanted to reach out to give a little shout out to one of your employees, Mitchell Mahon. As someone who is new to the department, I have started to notice that the people you have on your trial team can really make a difference. Mitchell always went above and beyond with the level of support he provided. His positive attitude and high level of professionalism were unmatched. The entire team felt very fortunate to have Mitchell as our hot seater. I look forward to working with DEG in the future.
Best,
Stef Munoz
Litigation Paralegal
Knobbe Martens

Ana Carroll put in a Kudo's for Kristian Hilbert and Ankur Patel

We had an issue with Shook Hard and Bacon last week. This job would have been a complete bust without the help of Kristian and Ankur.
Ankur and his team were on the kick off and noticed there was no reporter so he took the initiative to contact me and let me know we had a potential issue on our hands. He communicated with calendar and myself while he tried to alleviate the stress of the attorneys as they were starting to panic as this depo was very important and the attorney flew up to ATL for this. There was no indication at the time on why the reporter was a no call no show.
We were not able to get in contact with anyone on the ATL team, and since Kristian was cc'd on the email she immediately began working on coverage and trying to have them pivot from an in-person deposition to a remote depo. Once we got approval from the client, she began working on coverage while we waited for the local ATL team to step in. Kristin was able to get it covered and get the attorneys to not only agree to go remote, but also to do a stipulation because we did not yet have any word on a GA reporter being available.
Phillip was able to get a local reporter to jump on at the last min, and although they started an hour late, I could not have done it without the team work.
Jimmy Singh put in a Kudo's for Cynthia Rogers and Ana Carroll

I wish to send Cynthia kudos this week for covering that trial with a local reporter for Dogali Law Group. They want to use us more and more, but OC likes to use Veritext...
Winning them over with trial coverage will help entice OC's for this firm.
Also, to Ana! She has been super helpful this week while I'm out. She was walking out the door when a client called for an emergency add on for a hearing within 10minutes (virtual). She not only turned back around to help work on it before she left for a meeting, but her and Cynthia also got it covered.
Thank you to both teammates this week! 😊
Aleata Rodriguez put in a Kudo's for James Gabriel

I'd like to "Kudos" @James Gabriel for many reasons but mostly for just being an amazing person and a super great support to me since the moment i started. Huseby is honestly so lucky to have James and i just cant say enough how much better he makes each day just be being himself. He is so humble and kind and also very smart and helpful. Thank you James, you are truly a treasure!

Cindy Lengkong put in a Kudo's for Stephani Burger

HUGE Kudos to Stephani Burger she has helped me out today on so many requests for a firm (which I know is outside of her CM scope)...Thank you, I truly appreciate you Steph! :)

Julie Long put in a Kudo's for Amanda Kirchubel

I sat down to dinner with a client that produces 70% GP and has given us over 20 cases. The first thing the client said is, "I love love love Amanda Kirchubel . I feel like she is part of my legal team here at the firm. She is so nice and so conscientious and so patient with me."
Amanda Kirchubel you are an invaluable piece of this puzzle. We are so grateful for you. Thank you so so much! I can't thank you enough for who you are!

Cindy Lengkong put in a Kudo's for Amanda Kirchubel
Had a bittersweet conversation with one of my top schedulers and she wanted to let Amanda Kirchubel know how much she appreciated all of her hard work in making her job easier. Her exact comment was: she caught things I didn't and being detail oriented was an understatement. Thank you Amanda for all that you do!!! :) 
Cindy Lengkong put in a Kudo's for Aleata Rodriguez
Shout out Aleata Rodriguez for handling the recent bombardment of emails, with the need of exotic interpreters (Korean, Brazilian Portuguese, etc.) and with such ease! I appreciate your preemptive questions and always going above and beyond!! :)