Select a login option below
×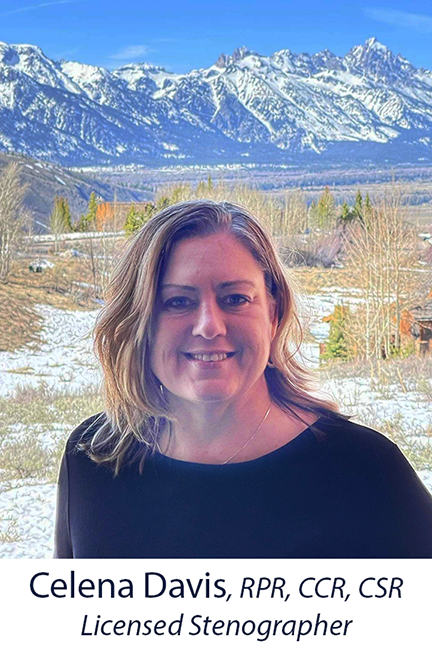 COURT REPORTER PROFILE



Full of Adventure, Caring Heart


If you're looking to explore the breathtaking natural beauty of the Mexican jungle, consider ziplining. That's what Celena did, and she found it to be an "amazing" experience. She does admit, though, that it's the craziest thing she has ever done.
While switching from accounting to court reporting is nowhere near as exhilarating, it has turned out to be a better adventure! Celena has worked on virtually every type of case imaginable – and in different settings! Though court reporting is a different kind of quest, Celena has enjoyed it for an amazing 25 years – and still does – 99 percent of the time!
Originally from Vandalia, Illinois (a small town of 6,000 located one hour east of St. Louis), Celena now resides in nearby Highland, Illinois. She is licensed in five states – California, Illinois, Kentucky, Missouri, and Tennessee – and provides real-time to clients in addition to rough drafts and expedites. Her certifications not only demonstrate that she is a well-trained professional but is committed to upholding industry standards and continuous learning.
"I traveled with a local attorney for five years on med-mal cases, so I enjoy those," she explains. "Medicine is fascinating. Tort reform reduced the number of cases, so now I don't do as many. Currently, I'd say complex business litigation is my favorite, such as software reliability cases."
The amount of learning about a new subject matter is endless. "I hold myself to incredibly high standards and think there's always lots of room for improvement," she notes. "I have spent 25 years constantly learning, finding easier, better ways to improve my skills."
It shows.
Just ask Huseby's Sales and Case Management teams who recognized Celena in Huseby's internal newsletter recently. "Everyone knows Celena Davis is a total rock star," they wrote, "but now a partner at a prominent law firms knows, too."
The partner wrote: "I would happily use Celena for any further depositions. All Huseby's reporters have been great, but I particularly liked the transcript generated by Celena. It seemed to come out nearly perfect. Thanks very much!"
And…thank you, Celena!
How does she do it? Celena scopes most of her own work, including dailies, and

uses a proofreader for every job. She believes that people have different areas they excel at. Hers just happens to be real-time.
"I strive to be the best I can be every day and stay current with technology," she says modestly.

There's an opportunity to learn something new every day. For example, Celena and her husband are "foodies." They love to eat at new places, and she looks forward to recreating those dishes at home. Most of all, Celena relishes cooking for people and listening to music of all kinds. After all, music is good for the soul as are great tasting dishes!
What does Celena advise to those who are considering a career in court reporting? "Oh, my gosh, do it!!!" urges Celena. "Don't let the threat of AI deter you. It is possible that most jobs 'could be' replaced, but I think the human factor will keep us relevant for a long time to come."
Well-said by someone who has worked with several rescues over the years in addition to fostering dogs. It comes as a little surprise that Celena is known for caring enough to help others.
"Whether that be professionally, for my family, for the community, I will always try to help if someone asks." concludes Celena. "We're all in this – life – together."